Hundreds detained at anti-war protests in Russia
In Moscow alone, police detained 600 people amid demonstrations against the military operation in Ukraine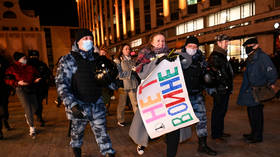 Anti-war slogans filled central Moscow and Saint Petersburg streets on Thursday, as hundreds took to protest against the ongoing Russian military operation in Ukraine. Police in the Russian capital have said they temporarily detained 600 people.
In Moscow, a crowd of demonstrators gathered on central Pushkinskaya Square, many of them young people. They were chanting anti-war slogans and holding signs that read: "Stop the war," "No to War," and "Ukraine is not our enemy," as well as "No one needs this war." Media reports also showed some demonstrators marching along Moscow's Tverskaya street, where the mayor's office is located.
Police cordoned off the square and sought to disperse the crowd, citing the existing Covid-19 rules. The rally had not been approved by city authorities.
One of the protesters was filmed throwing a Molotov сocktail at the police during the protest, but the vast majority of participants were peaceful.
Later on Thursday, the Moscow police department said they had detained around 600 people over various "breaches of public order," without specifying what those were.
Protesters also gathered in Saint Petersburg's city center, with the local media reporting up to 2,000 people present at protests, including on the iconic Nevsky Ave. Police cordoned off the iconic Palace Square reportedly after some people started marching towards it. The city police did not immediately disclose the number of arrests, while the media said the officers had detained several dozens of people.
Smaller anti-war protests were also held in several other Russian cities, including Yekaterinburg and Perm in the Urals, as well as the Siberian city of Novosibirsk.
Those protesting in Russia on Thursday objected to the developments in Ukraine. President Vladimir Putin had announced a "special operation" that he insisted was necessary to secure peace in the breakaway Donetsk (DPR) and Lugansk (LPR) People's Republics earlier in the day.
Moscow recognized both DPR and LPR as independent from Ukraine and signed agreements that included military help after the two republics claimed Kiev was launching a full-blown assault to retake them by force.
However, Moscow's response came on a wider scale than Ukraine's east, with military targets reportedly hit across the country. Putin claims the aim is the complete "demilitarization and denazification" of Ukraine, while Kiev and its western allies insist that an "unprovoked aggression" is happening.
You can share this story on social media: