Ukraine declares martial law
Zelensky summons the country's Security Council after Russia begins 'special operation'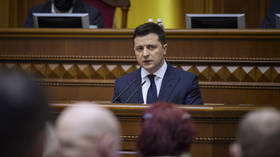 Ukraine has declared martial law after a meeting between President Volodymyr Zelensky and the country's National Security and Defense Council early on Thursday morning.
The decision follows an announcement by Russian President Vladimir Putin that Moscow would be launching a "special operation" in Ukraine.
Following Putin's statement, Ukrainian Foreign Minister Dmytro Kuleba revealed on Twitter that Moscow had launched a "full-scale invasion."
"Peaceful Ukrainian cities are under strikes," Kuleba wrote on Twitter. "This is a war of aggression. Ukraine will defend itself and will win."

Earlier on Thursday, Putin signed a decree authorizing the use of military force, following a request from the leaders of the newly recognized Donetsk (DPR) and Lugansk (LPR) People's Republics. The Russian president stated that current circumstances demand "decisive and immediate action," claiming that he wanted to "demilitarize" and "de-Nazify" Ukraine.

Shortly after convening the Security and Defense Council, Zelensky revealed that he had spoken to US President Joe Biden about the issue, and urged Ukrainians to stay calm and stay home.
You can share this story on social media: