Putin comments on borders of Donbass republics
Moscow has recognized the republics of Donetsk and Lugansk along the borders specified in their constitutions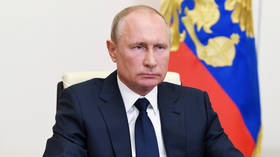 Moscow has recognized the Donbass republics of Donetsk and Lugansk within the borders they had when they were regions of Ukraine, Russian President Vladimir Putin told reporters at a press conference at the Kremlin on Tuesday.
"We have recognized them, which means that we recognize their basic documents, including their constitutions. Those constitutions set the boundaries as those of the Donetsk and Lugansk regions from the time they were a part of Ukraine," Putin told reporters after a meeting with his counterpart from Azerbaijan Ilham Aliyev.
Just over half of the territory that had been part of both regions before the split effectively remains under the control of the Ukrainian government. Earlier, Russia's Deputy Foreign Minister Andrey Rudenko had said that Moscow would respect the borders of the two republics according to where local leaders exercised authority and jurisdiction.
Putin recognized the sovereignty of the two breakaway republics on Monday, and asked the Russian Ministry of Defense to deploy peacekeepers into both Donetsk and Lugansk in order to provide for their security.
Earlier on Tuesday, the upper house of the Russian parliament has authorized the deployment of Russian troops abroad "in accordance with the principles and norms of international law."
The resolution did not impose any specific limits on the use of the military, with the number of troops, as well as "the areas of their activity, their goals, and length of stay outside Russia" to be decided by the president "in accordance with the Constitution." Following the announcement, Putin has told reporters not to assume the military will move in immediately.
Meanwhile, Ukrainian President Volodymyr Zelensky responded to Russia's recognition of the Donetsk republics by saying that he was considering severing diplomatic relations with Moscow. He nonetheless expressed hope there will be no war with Moscow. Ukraine and the EU have accused Moscow of having already begun sending troops to the two breakaway regionns.
The US has slapped sanctions on investment in Donetsk and Lugansk, and the EU said it will sanction more than 350 Russian MPs who voted for the decision, as well as 27 more individuals and legal entities. The UK has also imposed a set of sanctions on five Russian banks and on three "very high net worth individuals," Gennady Timchenko, Igor Rotenberg and Boris Rotenberg, who have had their UK assets frozen. The actions were described as part of the "first tranche" of the UK government's response to Moscow's decision.
You can share this story on social media: