Ukraine responds to claim Russia killed five of its soldiers
Moscow says it has repelled an armed border incursion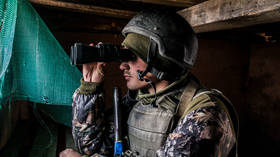 Ukraine has denied a Russian claim that five of its service personnel were killed on Monday during a firefight near the two countries shared border.
Kiev added that none of its forces have a presence in Russia's Rostov region, dismissing Moscow's assertion as "fake news."
"I reiterate that the Ukrainian armed forces have not attacked Donetsk and Lugansk, have not sent saboteurs or APCs across the border, have not shelled Russia's territory or its border checkpoint. All of these are the products of Russia's fake factory," Ukrainian military spokesman Pavlo Kovalchuk told reporters.
The official also insisted the country's military has not taken any "aggressive actions" at all lately, claiming the forces of the breakaway republics of Donetsk and Lugansk have been shelling themselves to ramp up the ongoing tensions.
"The occupiers themselves are blowing up infrastructure facilities in the occupied territories, carrying out erratic shelling of settlements and staging other provocations to escalate the situation," Kovalchuk alleged.
Ukraine's Foreign Minister Dmitry Kuleba had a similar message, taking to Twitter to deny any intrusion and urge Russia to "stop the fake factory."
The Russian Army claimed that a small reconnaissance unit crossed from Ukraine into Russia's Rostov Region around 6am local time. Moscow said that when its forces were sent to confront the intruders, two Ukrainian armored infantry vehicles crossed into Russia as well.
According to Moscow, both Ukrainian vehicles were destroyed and five service members were killed. There were no casualties among the Russian troops and border guards, Moscow said.
Russian officials earlier said that a border guard post was destroyed on Monday by a shell launched from Ukraine. No one was hurt in the reported incident. Kiev branded the allegations part of Moscow's "information war waged to pin the blame on Ukrainian armed forces." Ukrainian officials have repeatedly accused Moscow of trying to lure them into a conflict.
The recent flare-up between the Ukrainian army and the two breakaway regions in the country's east began last week, with both sides blaming each other for ceasefire violations.
The self-proclaimed Donetsk and Lugansk People's Republics (DPR and LPR) claimed that Ukraine was planning a full-blown assault. The rebels mobilized military-age men and are evacuating civilians to Russia. The Ukrainian military, meanwhile, denies plans to return the two breakaway regions by force.
You can share this story on social media: