Powerful explosions hit another city in eastern Ukraine – reports
One of the two consecutive blasts in Lugansk has affected a gas pipeline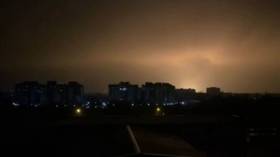 Two explosions rocked the city of Lugansk in eastern Ukraine late on Friday, a Sputnik news agency correspondent has reported. Local media have also confirmed that the first blast affected a pipeline in the area, resulting in a major fire. The second one reportedly took place at a gas station.
The reports of explosions come just hours after the neighboring city of Donetsk was rocked by another blast. It was caused by a car bomb, which targeted a vehicle belonging to the head of the people's militia of the self-proclaimed Donetsk People's Republic, and did not result in any casualties.
Earlier, both self-proclaimed republics in Lugansk and Donetsk ordered a mass evacuation of civilians from the area to Russia, citing fears of a potential attack by the Ukrainian military. Meanwhile, Kiev has denied any plans to take the breakaway regions by force.
Tensions are currently running high in eastern Ukraine, as the two breakaway republics – known colloquially as Donbass – allege the government in Kiev is planning a military operation to claim their territory by force. They have cited a sharp increase in incidents along the armistice line, including the use of artillery, mortars, and tanks by the Ukrainian military.
Meanwhile, the US and NATO have accused Russia of intending to invade Ukraine, though their predicted start date of February 16 came and went without incident. Moscow has repeatedly rejected the accusations as 'fake news'. Both sides have accused the other of planning a 'false-flag' attack to create a pretext for a military operation.
You can share this story on social media: