Threat to Ukraine flights revealed
Foreign lessors demand that their planes be returned to the EU as soon as possible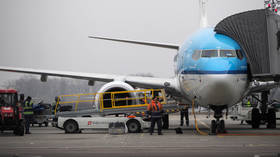 Kiev's SkyUp Airlines has released a statement, confirming that major international insurance companies notified Ukrainian carriers on Saturday that they will stop covering aircraft flying over Ukraine "within 48 hours." According to the statement, the decision was made in light of "growing risks of a military conflict breaking out."
SkyUp says that the move by insurers has also seen foreign lessors demand that their planes be returned to the EU as soon as possible.
The airline cited a recent flight from Portugal to Kiev which had to be rerouted after the jet's owner prohibited the flight from entering Ukraine's airspace. The plane ended up landing in Moldova's capital, Chisinau.
Amid reports of an upcoming air closure over Ukraine, the country's Ministry of Infrastructure insists that the "airspace over Ukraine remains open, and the state is working to prevent risks to air travel." According to its Facebook post, "closure of airspace is a sovereign right of Ukraine, no decision has been made."
Earlier on Saturday, Dutch flag carrier KLM Airlines announced its decision to halt all flights over Ukraine, citing "travel advice" being adjusted to "code red," along with an "extensive safety analysis."
Meanwhile, speaking to Russia's RBC news outlet, a representative for Germany's Lufthansa did not rule out halting flights over the Eastern European country either. The German carrier has, however, not made any decision yet.
You can share this story on social media: