The Minsk Protocols: Seven years on, is there hope for peace in eastern Ukraine?
The historic peace deal has yet to put an end to fierce fighting in the region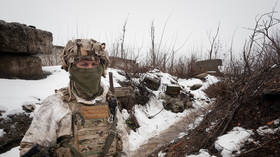 Seven years ago, on February 12, 2015, as a worsening armed conflict raged in the Donbass region of eastern Ukraine, European leaders, including then-German Chancellor Angela Merkel and former French President Francois Hollande, flew into Belarus for emergency talks. Following the negotiations, Russia, Ukraine, the leaders of the two breakaway separatist regions, and representatives of the intergovernmental organization OSCE inked their signatures on a pact known as Minsk II.
When it was signed, Russian President Vladimir Putin hailed the progress made, telling the media after the marathon summit, which lasted 17 hours, that "I believe we agreed on a big deal. We agreed to a ceasefire starting at 00:00 on February 15." Under its terms, Ukrainian troops and separatist forces would put an end to the fierce clashes that had turned the region into a conflict zone.
The peace deal was signed after an earlier agreement, Minsk I, failed to bring any prospect of peace to the war-torn region. Seven years on, with some estimates claiming that over 14,000 people have died as a result of the conflict, Minsk II appears to have done little to calm tensions.
You can share this story on social media: