Putin and Macron reveal outcome of key Ukraine talks
Putin agrees to "move forward" on some of the security proposals Macron brought to Moscow on Monday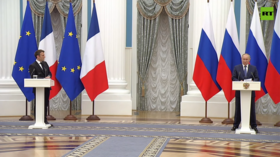 Russian President Vladimir Putin said it was possible to move forward on some of the solutions to the Ukraine crisis his French counterpart, Emmanuel Macron, proposed at the Monday talks in Moscow. Macron told the media in the Kremlin that these ideas might require brand-new security mechanisms.
Moscow and Paris have agreed to further work on "a number" of Macron's proposals on Ukraine, the two leaders told reporters, after finishing their marathon Monday talks, which pushed the press conference past midnight Moscow time. Neither of them offered any details on what the proposals might be.
Putin said he and Macron had a productive discussion on de-escalating the situation in Ukraine. The Russian president reiterated that Kiev has been refusing to implement the Minsk agreements and make peace with the two breakaway regions of Donetsk and Lugansk, choosing to persecute Russian-speakers in Ukraine instead.
He also brought up the three key points from Moscow's security proposal published in December, which NATO and the US have "unfortunately rejected," and said NATO is not obligated to accept anyone, including Ukraine.
Macron said new, "alternative" mechanisms to ensure stability in Europe may need to be constructed, as revising the existing arrangements and agreements would not be practical.
The two presidents also discussed Belarus, the conflict between Armenia and Azerbaijan over Nagorno Karabakh, the Iran nuclear deal and the situation in the African country of Mali, among other things.
The French president traveled to Moscow on Monday to meet Putin in person, pledging to have an "in-depth" conversation about Ukraine to reach a "mutually beneficial answer for Russia and for the whole of Europe" that "helps to avoid war."
At the start of the meeting, with cameras present, Macron called Putin by his first name while the Russian leader used the familiar "you." The two leaders exchanged a few pleasantries in English before reporters were ushered out of the room and the meeting began in earnest. The talks lasted for more than five hours.
The meeting comes after NATO and the US responded negatively to Russia's offer of a security arrangement for Europe, and continued to accuse Moscow of planning to "invade" Ukraine. The Kremlin has rejected the accusations, which began in October, as "fake news."
After Moscow, Macron is due in Kiev, for talks with Ukrainian President Volodymyr Zelensky on Tuesday.
You can share this story on social media: