Law enforcement officers beheaded in Kazakhstan – media
The death toll among the security forces during the unrest in Almaty has reportedly reached 13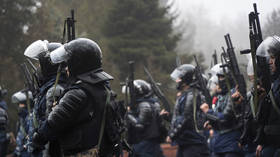 At least two law enforcement personnel have been beheaded during violent protests in the Kazakh city of Almaty, according to local media reports on Thursday.
News of the alleged incidents was broadcast by Nur-Sultan's state-run TV channel Khabar 24, citing city authorities. Some 353 officers are said to have been injured, so far. The death toll among police and security service members has reportedly reached 13.
It is not yet clear whether the rioters decapitated the victims while they were still alive or mutilated their bodies posthumously. No evidence has yet been provided to back up the assertion.
The channel cited officials as stating that the beheadings were "direct proof of the rioting groups' terrorist and extremist nature."
Russia's RIA news agency asked the authorities in Almaty for comment, with officials telling its journalists that at least two bodies had been found headless.
Protests flared in multiple regions in Kazakhstan this week, with citizens initially decrying a steep hike in the cost of liquefied petroleum gas. In an apparent bid to deescalate the situation, President Kassym-Jomart Tokayev imposed a ceiling on fuel prices for six months and disbanded his government. However, violent demonstrations continue unabated, with the former capital, Almaty, becoming the focus.
Footage circulating on social media shows demonstrators beating up police officers, seizing firearms and grenades, and storming and setting fire to administrative buildings across the city. Looters have also reportedly ransacked numerous stores.
Special units were deployed to Almaty on Wednesday night, with reports of gunfights between the security forces and armed rioters. Authorities say dozens of armed citizens were shot and killed by the police.
The president branded the rioters "terrorists" and claimed they had been trained abroad, warning protesters the authorities would brook no violence or looting. He has asked allies from the Collective Security Treaty Organization to send in peacekeepers to assist in stabilizing the situation. Russia, which is part of the bloc, has already deployed paratroopers to guard government offices.
You can share this story on social media: