Long awaited NATO-Russia meeting confirmed
The US-led bloc will sit down with Moscow next week, Russian media has been informed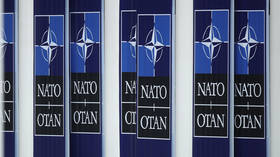 The NATO-Russia Council is set to meet on January 12, the alliance's press service has told news agency TASS. It will take place two days after talks between Moscow and Washington begin in Geneva.
Russia suspended cooperation with NATO last October, after the organization expelled eight of Moscow's diplomats from the country's mission in Brussels. It accused them of engaging in undercover espionage activities, without providing any evidence to back up the claim. Moscow, in response, said the move was part of an attempt to hype up the 'Russia threat' agenda.
Next week's summit has been convened by the bloc's secretary-general, Jens Stoltenberg. He is also the chair of the NATO-Russia Council, which was established for direct communication back in the early 2000s. Its fate has remained uncertain in recent months.
The council has not met since 2019 and relations between Europe's largest country and the alliance have barely functioned since after the 2014 'Maidan' in Ukraine, and subsequent crises in Crimea and Donbass.
Back in December, Stoltenberg signaled readiness to engage in "meaningful dialogue" with Russia amid rising tensions.
Over the past few weeks, the West has repeatedly accused Moscow of seeking to "invade" neighboring Ukraine, citing images of Russian troop movements near its borders as 'proof'. Moscow, however, has consistently denied such allegations, maintaining that the maneuvers are confined exclusively to Russian territory and are not aggressive in nature.
The council meeting will follow scheduled US-Russia talks on security guarantees in Geneva. The idea of a comprehensive deal between Russia and the West was floated by President Vladimir Putin early in December, with Moscow already tabling two draft documents – one for the US and another one for the bloc it leads.
Among other conditions, the proposed guarantees envision a legally binding obligation for NATO to stop its eastward expansion, most notably into Ukraine. The high-profile gathering, set to be led by the two countries' top diplomats, is scheduled to begin on January 10.
You can share this story on social media: