Putin & Biden set for Thursday phone call
The US and Russian presidents are set for another discussion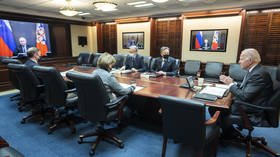 US President Joe Biden will hold talks, by phone, on Thursday with his Russian counterpart Vladimir Putin, discussing "upcoming diplomatic engagements" with Moscow, the White House has announced.
The exchange was announced in a brief statement by the spokesperson for the National Security Council, Emily Horne, on Wednesday. The two presidents will "discuss a range of topics, including upcoming diplomatic engagements with Russia," Horne said.
Moscow confirmed the information shortly after the White House's announcement. Kremlin spokesman Dmitry Peskov told RIA Novosti it will take place late on Thursday, Moscow time. The Russian capital is eight hours ahead of Washington.
The White House signaled that the Ukrainian crisis remains the main topic of discussion between Biden and his Russian counterpart. Horne said Washington had been engaging "in extensive diplomacy with our European Allies and partners, consulting and coordinating on a common approach in response to Russia's military build-up on the border with Ukraine."
Russia has dismissed any link between the alleged build-up and the conflict in the neighboring country, repeatedly stressing that the movement of troops on its own territory is not up for discussion with outside actors.
Earlier this month, the two presidents held a virtual summit, discussing a vide variety of topics in a video link. Apart from Ukraine, Putin and Biden talked sanctions, cyber security and the fate of the 2015 Iran nuclear deal. The central topic of President Putin's agenda was a comprehensive security deal on an end to NATO expansion, which he proposed be struck between Moscow and members of the Western military bloc.
American officials have been evasive when commenting on the possibility of such a deal, and the White House said it would "never agree" to some of the proposals, but stopped short of ruling out an agreement entirely.
You can share this story on social media: