NGO Memorial closed by Russian court over 'foreign agent' breaches
The controversial decision has effectively barred the NGO from operating in the country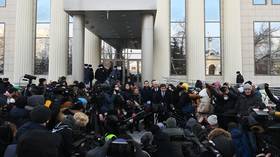 A Moscow court has ruled that a prominent organization campaigning on human rights issues should be dissolved after prosecutors insisted that it was breaching the country's laws regulating 'foreign agents.'
In a ruling on Wednesday, the Moscow City Court said that the Memorial Human Rights Center would be dissolved. Handing down the verdict, judge Mikhail Kazakov said that he would "rule in favor of the claims of the prosecutor's office to liquidate the inter-regional public organization [Memorial] in full." Officials allege that the civil society association repeatedly broke the terms of its 'foreign agent' status, imposed over links to overseas funding.
The day before, Russia's Supreme Court ordered that the group's sister organization, which is dedicated to the memory of the victims of Communist-era repressions, be dissolved as well. Authorities filed applications to liquidate the two entities in November.
During the hearing on Tuesday, the Prosecutor General's office argued that Memorial had been created in the late 1980s originally "as an organization to perpetuate historical memory, but now it is almost completely focused on distorting historical memory, primarily about the Great Patriotic War," as WWII is known in Russia.
According to officials, the group "creates a false image of the USSR as a terrorist state" and "attempts to whitewash and rehabilitate Nazi war criminals who have the blood of Soviet citizens on their hands… probably because someone is paying for this."
Memorial documents the fates of people purged during Soviet leader Joseph Stalin's 'Great Terror' and of those sent to the Gulag prison camps, while the Memorial Human Rights Center campaigns on what it describes as modern civil rights issues. Prosecutors allege that it was using funding from opaque sources and had encouraged unauthorized mass protests.
"Memorial carries out its financial activities in a non-transparent manner; the organization's reports do not contain complete information on income and expenses," an official said during the hearing.
Memorial's chairman, Alexander Cherkasov, has accused authorities of trying to break "the red flashing light" that signals something is wrong, instead of addressing underlying issues, and Memorial's lawyers have claimed that the prosecution was politically motivated.
A number of international observers had weighed in ahead of the trial, with Marija Pejcinovic Buric, Secretary General of the Council of Europe, arguing that "the liquidation of International Memorial would deal a further devastating blow to civil society, which is an essential pillar of any democracy." The director of the Polish-based Auschwitz Memorial Museum, Piotr Cywinski, also cautioned on Tuesday that "a power that is afraid of memory will never be able to achieve democratic maturity."
However, Russian senator Olga Kovitidi claimed that the group was part of efforts to influence domestic political debate from abroad. "The Western media place Memorial on a par with [jailed opposition figure Alexey] Navalny's extremist operations, and have expressed fears that funding channels will be cut off for the organization," she said, alleging that foreign groups were working to influence the country's criminal justice system.
Earlier this year, Memorial's staff were reportedly locked inside their Moscow offices for several hours by police, after a screening of a film about Ukraine's Soviet-era famine was disrupted by masked protesters. The assailants reportedly shouted that those in attendance were fascists and demanded that the showing of 'Mr. Jones' by Polish director Agnieszka Holland be halted.
Memorial had faced a number of fines after authorities found it failed to prominently display its 'foreign agents' status on its materials. Russian President Vladimir Putin has previously said that the rules "exist simply to protect Russia from external meddling in its politics," and insisted that organizations that adhere to them can keep working.
However, the legislation has come under fire from a number of groups which argue the measures are too restrictive. In August, an open letter signed by 10 separate outlets asked the Kremlin to investigate the use of the 'foreign agent' legislation as part of "the persecution of independent journalism in the country."
Earlier this month, Putin was asked about the case of a journalist who was reportedly required to label her 'foreign agent' status on social media photographs of herself and her daughter decorating a Christmas tree. In response, the Russian president said that such examples are "comical" and "completely excessive," calling for a review of the measures.
You can share this story on social media: