Ukrainian navy ship came close to Russian waters off Crimea & refused to change course – Moscow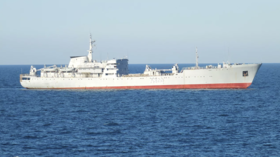 A Ukrainian navy vessel, named the Donbass, set course to pass through Russian territorial waters off the coast of Crimea, on Thursday, and ignored warnings to turn around, border officials have reported.
The incident cames at a time of heightened tensions between Russia and Ukraine that have caused alarm internationally. On Tuesday, Russian President Vladimir Putin held a "virtual summit" with his US counterpart, Joe Biden. The American leader was due to speak with Ukraine's Volodomyr Zelensky around the same time, amid efforts to find a resolution to a seven-year-old standoff between Moscow, Kiev and the West.
In a statement issued late on Thursday night, Russia's FSB announced that "on December 9 at 9.12am, the command ship 'Donbass' of the Ukrainian Navy left the port of Mariupol and began heading for the Kerch Strait."
According to officials, the vessel did not have permission to pass through the Russian-controlled Kerch-Yenikalsky canal that divides the Black Sea from the Sea of Azov.
The Ukrainian crew reportedly insisted that they do not intend to pass through the waters. However, the FSB claimed, at the time, that "at present, the Donbass is a distance of 18 nautical miles from the Kerch Strait and is not complying with the requirements to change course. These actions pose a threat to the safety of navigation."
The Donbass is a former Soviet auxiliary vessel later converted by the Ukrainian navy into a command ship for its fleet, following the fall of the USSR. In 2014, it was captured as a number of Kiev's forces stationed in Crimea defected to Russia, before Moscow ultimately reabsorbed the peninsula. However, it was later returned.
Biden and Putin spoke for around two hours via secure video link, on Tuesday, after weeks of warnings from American intelligence and Western politicians that Russia could be be plotting an all-out invasion of its Eastern European neighbor. The Kremlin has consistently rejected the claims, chalking up reports of a planned offensive as US-backed "disinformation."
Ahead of the talks, Putin announced that he would seek assurances from Washington that NATO would not expand further eastwards, despite Ukraine's long-held ambitions to join the US-led military bloc. The move, which could see Western troops and military hardware stationed along more of Russia's borders, has been set out as a red line by Russia.
You can share this story on social media: