West could make big profits by breaking up Russia – former top diplomat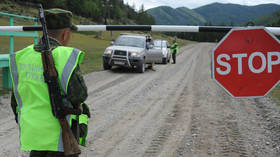 The world's largest nation should be partitioned by Western powers and divided up into around a dozen separate states, Ukraine's former foreign minister has said, insisting the move would be beneficial for all concerned.
Speaking in an interview with Ukraine's Channel Five on Monday, ex-Foreign Minister Vladimir Ogryzko argued that the West should "go all the way" on the issue and allocate hundreds of billions of dollars for new countries to be carved out of territory currently governed from Moscow.
"Imagine that a collection of independent 10-15 non-nuclear nations is created in place of the current Russian Federation… Who will benefit from this? Everybody wins," Ogryzko claimed.
According to him, the US and EU would be able to profit highly from this state-making venture, and would make the money back that they spent rehashing Russia's borders.
Ogryzko's comments come following claims in the West that Moscow is planning an attack against Ukraine, amid a series of unsubstantiated rumors that Russian troops are building up on the border.
On Sunday, NATO Secretary General Jens Stoltenberg warned the Kremlin that if Russia uses force against Ukraine, "there will be consequences." He remarked that the US-led military bloc has never been reluctant to impose penalties on Moscow, referring to the financial sanctions enforced in the wake of its reabsorption of Crimea.
Russia, however, insists that it has no plans for a full-scale conflict with Ukraine, with officials mocking reports showing military hardware hundreds of kilometers from the border as US-backed scaremongering.
Last month, the deputy of Ukraine's Verkhovna Rada, Aleksey Goncharenko, accused Moscow of stealing Kuban, a geographic region in southern Russia on the Black Sea, from its neighbor. He warned that "when Ukraine has honest leadership, then you will have to give everything back and return it all."
Senior officials in Moscow have hit back at the increasingly fierce rhetoric coming from Kiev over its territorial claims. The deputy chairman of the State Duma's Defense Committee, Aleksandr Sherin, said on Monday that Ukrainian politicians are trying to distract people from their own domestic problems by inflaming tensions with Russia.
You can share this story on social media: