Head of Navalny-linked 'Doctors' Alliance' given year of 'restricted freedom' for promoting protests contrary to Covid-19 rules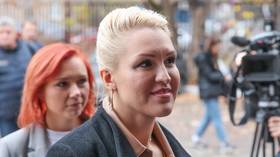 The head of the Doctors' Alliance, an activist group linked to Alexey Navalny, has become the latest Russian opposition figure sentenced to "restricted freedom" after promoting mass protests in defiance of Covid-19 restrictions.
Anastasia Vasilyeva must now stay at her registered home between 10pm and 6am, may not leave Moscow and is forbidden from attending or participating in public events.
Vasilyeva is the latest in a long line of opposition figures to have received the same or similar sentences. Accusations of breaking sanitary rules have been leveled against 10 associates of Navalny who took part in and promoted protests earlier this year to demand that he be released from prison. The demonstrations were refused permission to take place by the Moscow authorities on the grounds of Covid-19 restrictions.
Others sentenced include Maria Alyokhina of Russian punk rock protest group Pussy Riot, Navalny's close ally Lyubov Sobol, and his spokeswoman, Kira Yarmysh.
Also on rt.com
Head of Navalny-linked doctors' 'union' denounces Russian opposition figure's movement, his allies blame pressure from authorities
The Doctors' Alliance was founded in 2018 as an activist group for healthcare workers. Vasilyeva started the organization when she was Navalny's private eye doctor. Earlier this year, it was recognized as a foreign agent by the Ministry of Justice.
In September, Vasilyeva turned against Navalny and his organization, writing on Facebook that she no longer wishes to be associated with the Anti-Corruption Foundation (FBK), accusing it of neglecting her union in its hour of need.
"Friends, it is hard for me to write these words, but due to the recent events that are happening to me and the like-minded people around me. It's quite a sad story," Vasilyeva wrote. "During the pandemic, the FBK provided us with help. But, at the moment we were no longer needed, we were forgotten. Used and thrown away."
The FBK was designated an extremist organization earlier this year.
Like this story? Share it with a friend!
You can share this story on social media: