'Thanks to your efforts': Putin praises Merkel for improving relations as German leader visits Moscow for final time as chancellor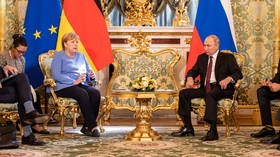 Berlin has remained one of Moscow's main trade and economic partners due to, among other reasons, 16 years of continuing efforts by the departing German Chancellor Angela Merkel, Russian President Vladimir Putin said on Friday.
Putin was speaking at the Kremlin during Merkel's final visit to Moscow as leader, one month before she steps down after the 2021 parliamentary election.
"I would like to note that Germany remains one of the main partners for us, both in Europe and in the world as a whole," Putin told Merkel. "It is, among other things, due to your efforts during the previous 16 years as Chancellor. In terms of countries, Germany is our second trading and economic partner after China."
In response, Merkel told the Russian president that, despite differences in opinion, it is good that the two leaders "keep in contact" and "keep the conversation going."
As well as bilateral relations, the two will also discuss many other topics, such as Libya, she said. The opening remarks, usually a cordial but serious affair, were interrupted when Merkel's phone started to ring – an uncharacteristic oversight by the longtime chancellor.
Also on rt.com
More 'frostpolitik' than 'Ostpolitik'? Merkel's farewell Moscow summit with Putin rounds off a tumultuous era in European politics
Earlier this week, Merkel's spokesman Steffen Seibert revealed that the two leaders also plan to discuss Afghanistan, Belarus and Ukraine, as well as the joint Nord Stream 2 gas pipeline project.
In the last year, the relationship between Berlin and Moscow has complicated significantly. The fact that the Nord Stream 2 gas pipeline is almost completed, despite opposition from some of Germany's fellow NATO members, has shown that the two countries are willing to cooperate on mutually beneficial projects. However, Germany and Russia have come to blows over other issues, such as the alleged poisoning of opposition figure Alexey Navalny.
On Thursday, Moscow accused Berlin of fabricating the poisoning as a "planned provocation" to discredit Russia in the world.
Think your friends would be interested? Share this story!
You can share this story on social media: