Russian regulators block website of jailed opposition figure Alexey Navalny, weeks after activist's operations branded 'extremist'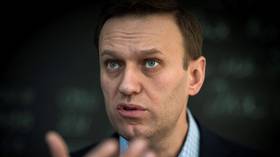 Moscow's digital watchdog has ordered internet providers to block access to the homepage of jailed anti-corruption campaigner Alexey Navalny, citing provisions that allow sites to be taken down if they call for illegal activity.
The order, issued on Monday, saw the activist's homepage become unavailable for users in Russia. The ruling, enforced by Roscomnadzor, originated with the office of the country's prosecutor general.
It points to breaches of Article 15.3 of the Law on Information, Technology and Protection, which allows authorities to act if they believe webpages contain calls for mass riots, participation in large-scale unauthorized events, and extremist activities.
Also on rt.com
Jailed Russian opposition figure Alexey Navalny's organisation branded 'extremist' by Moscow Court – allies now face election ban
In June, a Moscow court ruled that Navalny's political campaign network, along with his Anti-Corruption Foundation (FBK) and his Citizens' Rights Protection Foundation, were 'extremist organizations'. The FBK had already been designated as a 'foreign agent' by the Russian Ministry of Justice and required to display its status, but the new ruling effectively prohibited the groups' ability to operate in the country.
In April, prior to the initial court decision, Navalny's aide Leonid Volkov announced that his political operations would be disbanded, fearing that many of its workers could face criminal charges. Volkov has coordinated the network from abroad in Lithuania.
Also on rt.com
Russia's targeting of some opposition groups & media seems to be about links to hostile foreign states, not their support at home
Navalny is currently serving two years and eight months in a prison colony for breaching bail conditions relating to a previous scheme to defraud French cosmetics firm Yves Rocher. He was arrested on landing back in Moscow from Germany, where he had been living after being transferred to Berlin to be treated for what he and his German doctors allege to be a poisoning with the nerve agent Novichok.
A consequence of the 'extremist organization' designation is that many of Navalny's allies and those who have worked as part of his operations will be barred from standing for elections in Russia. In May, the State Duma passed a law preventing those who give money or time to the banned groups from participating as candidates.
Like this story? Share it with a friend!
You can share this story on social media: