Russia less reliant on oil & gas as economic recovery in other sectors fuels country's rapid return to growth, new report reveals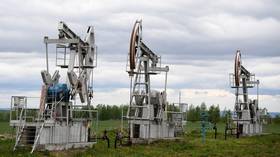 While the stereotype is that Russia measures the size of its economy not in rubles but in barrels, a recent rally has seen the country on track for significant growth, with oil and gas making up a smaller fraction than before.
New analysis by state statistical agency Rosstat, published on Tuesday, found that oil and gas made up only around 15% of the country's official gross domestic product (GDP) at the beginning of this year. This represents a marked decrease from the previous 12 months, when the sector accounted for more than 19% of turnover.
This means that, at the end of the first year of the coronavirus pandemic, oil and gas were responsible for an added value of around 16.3 trillion rubles ($220 billion).
Also on rt.com
Rising prices & low salaries: Despite signs of economic recovery from Covid-19 crisis, Russians say money is main cause of stress
Earlier this month, the Ministry of Economic Development in Moscow upgraded its macroeconomic forecast for the period leading up to 2024. According to officials, GDP growth over the course of 2021 will compensate for the hit that the economy took from Covid-19 in 2020, and the rise in GDP will not fall below 3% annually in that period. Manufacturing, chemicals and heavy industry are understood to be driving the positive data.
GDP levels are, however, notoriously unreliable in Russia and its international rankings are quickly bolstered when adjusted for purchasing power parity, which makes Moscow the world's sixth-largest economy. Given that Russia purchases much of its key infrastructure and defense capabilities from within the country, paying in rubles, many analysts have warned that assessing it in dollar terms distorts the picture.
Also on rt.com
Russia raises GDP growth outlook as economy recovers faster than expected
Likewise, significant numbers of transactions in Russia, as with most former Soviet states, are part of the informal economy, or in the black and grey markets. As a result of cash-in-hand payments and tax evasion, it is likely that the nation's markets are far larger than routinely estimated.
Despite the positive outlook, inflation and price growth continues to be a major challenge for Russian consumers, particularly combined with slow salary growth. A survey of more than 3,500 people by research firm Romir, published in May, found that around 55% of respondents said they were feeling worried, with five of the 10 most common causes for concern related to finances.
Like this story? Share it with a friend!
You can share this story on social media: