Lithuania calls on EU to impose sanctions against Belarus over illegal migrants as Brussels launches urgent border operation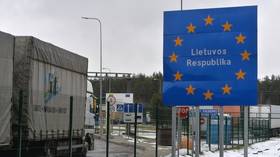 Vilnius has called on the European Union to impose brand new sanctions against Belarus, accusing Minsk of masterminding the illegal trafficking of an unprecedented number of immigrants across the border into Lithuania.
At the same time, Lithuanian authorities have asked for help from the European border agency Frontex, which has agreed to conduct an urgent operation to stem the flow of migrants.
Speaking on Monday, Lithuanian Foreign Minister Gabrielius Landsbergis accused Belarus of using migrants as a "political tool" and called on Brussels to adopt a fifth package of sanctions against the country's president, Alexander Lukashenko.
Also on rt.com
Lithuania to build border wall with Belarus as illegal immigration skyrockets causing Vilnius to declare state of emergency
Last week, Lithuanian Prime Minister Ingrida Simonyte said that the country would be building extra defenses on the border with Belarus. The announcement came after the authorities declared a state of emergency. According to Lithuanian news site Delfi, during the first six months of 2021, 822 illegal migrants tried to enter the country. This is 10 times more than in 2020.
The Lithuanian authorities believe the Belarusian government is to blame for the issues on the border, and have accused it of flying migrants from Syria and Iraq to Minsk and shuttling them to the frontier as a form of warfare. The latest reports have shown that, in June, African migrants have been using the same route to enter the EU, including from Congo, Gambia, Guinea, Mali, and Senegal.
"We will begin building an additional physical barrier, which divides Lithuania and Belarus, which would be a certain sign and a certain deterrent to organizers of the illegal migration flows," she told a news conference.
On Monday, Frontex revealed that it had agreed to launch a rapid border intervention at Lithuania's frontier with Belarus to assist with the growing migration pressure.
"Rapid border interventions are designed to bring immediate assistance to an EU Member State that is under urgent and exceptional pressure at its external border, especially related to large numbers of non-EU nationals trying to enter its territory illegally," a statement by Frontex said.
Frontex, based in Warsaw, is the EU agency tasked with border control for the Schengen Area.
If you like this story, share it with a friend!
You can share this story on social media: