Despite several packages of US sanctions, Nord Stream 2 pipeline will 'unequivocally' be finished in 2021, says Gazprom chairman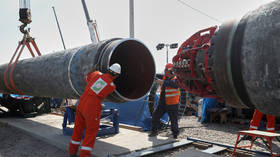 After a series of delays caused by sanctions imposed by Washington, construction of the controversial Nord Stream 2 gas pipeline will be completed before the end of year, according to the chairman of Russian energy giant Gazprom.
Speaking to journalists in Berlin, Viktor Zubkov explained that construction is "90-92%" complete. Zubkov is Russia's former Prime Minister, having served two stints in 2007-2008 and 2012.
"This year, unequivocally, it will be finished," he stated, as quoted by news agency TASS. "It's a pity about the lost time, but that's the way it happened."
His comments come just two days after US Secretary of State Antony Blinken told his German counterpart, Heiko Maas, that Washington would continue to oppose the construction of the pipeline. Berlin has shown no sign of bowing to American pressure.
Nord Stream 2 will connect Germany directly to Russia via the Baltic Sea. It is aimed at protecting Berlin's energy security and making the process less reliant on third countries transiting gas, also lowering the price. Much of Europe's energy comes from Russia via Ukraine, and Kiev receives hefty fees for pipeline usage.
Its completion has been delayed significantly by resistance from the United States. Washington has imposed numerous packages of sanctions against companies involved in the construction, maintenance, insurance and certification of the pipeline, leading some to pull out altogether.
Earlier this year, the US Treasury Department expanded its measures against Nord Stream 2, with the Countering America's Adversaries Through Sanctions Act (CAATSA), which placed pipe-laying vessel Fortuna under financial restrictions.
According to Washington, the project will "undermine Europe's overall energy security and stability." However, some have accused the Americans of opposing the pipeline for economic reasons, as the country looks to increase its exports of Liquefied Natural Gas (LNG) to the continent.
Also on rt.com
No 'consensus' at NATO on whether to support or oppose Germany-Russia Nord Stream 2 pipeline – US led bloc's Stoltenberg
Last year, Russian President Vladimir Putin said that US sanctions are aimed entirely at protecting America's ability to sell LNG to Europe, disguised as a foreign policy goal to protect Ukraine.
"If sanctions remain, it means only one motive," Putin said. "They are securing a market for their products, exclusively in their own selfish interests, and at the expense of European consumers."
According to online publication Politico Europe, there is a similar feeling in Berlin, with Germans believing that the US doesn't really care about Russia, but "they just want to sell us their fracking gas."
Like this story? Share it with a friend!
You can share this story on social media: