Biden says 'killer' Putin will 'pay a price' for alleged US election meddling, as Russia insists claims just pretext for sanctions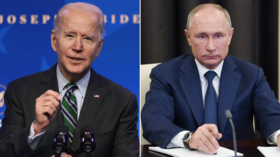 US President Joe Biden has said that his administration is preparing a harsh response after American security agencies reported that Russia attempted to interfere in the 2020 US elections in favor of his opponent, Donald Trump.
In an interview with the ABC news channel published on Wednesday, Biden was asked by Chief Anchor George Stephanopoulos whether he thought Russian President Vladimir Putin was "a killer.""Mmm hmm, I do," Biden replied.
He added that he had previously warned his counterpart in Moscow that the US would potentially take action if it found evidence of Russian interference in the election. "He will pay a price," Biden said. "We had a long talk, he and I… I know him relatively well. And the conversation started off, I said, 'I know you and you know me.' If I establish this occurred, then be prepared."
On Tuesday, a joint report by Washington's spy agencies, including the CIA and the Department of Homeland Security was declassified. It declares that Russia attempted to influence the 2020 vote with the aim of "denigrating President Biden's candidacy and the Democratic Party, supporting former President Trump, undermining public confidence in the electoral process, and exacerbating sociopolitical divisions in the US."
The campaign, it insisted, was carried out by proxies including "Ukraine-linked individuals with ties to Russian intelligence and their networks," who sought to smear the Democratic candidate for allegedly corrupt links to Kiev. It is not immediately clear how this supposed web of influence leads back to Moscow. However the report claims that Russia "almost certainly views meddling in US elections as an equitable response to perceived actions by Washington and an opportunity to both undermine US global standing and influence US decision-making."
Also on rt.com
US hits Russian officials & organizations with new blacklist sanctions over Navalny jailing & alleged 'chemical weapons' claims
In the wake of the analysis, American media reported that the country was expected to unveil sanctions on Russia as early as next week in response to the alleged attempts to influence the election. Asked about the report, an anonymous Biden staffer told Reuters that the president had "been clear" that the United States would respond to destabilizing Russian actions.
However, Russian diplomats have dismissed the intelligence agencies' verdict. In a post on its Facebook page, Moscow's embassy in Washington said that the document "is another set of groundless accusations against our country of interfering in American internal political processes." The officials argue that "the conclusions of the report on Russia conducting influence operations in America are confirmed solely by the confidence of the intelligence services of their self-righteousness. No facts or specific evidence of such claims were provided."
At the same time, the envoys accuse Washington of practicing "megaphone diplomacy" in an attempt "to maintain a negative image of Russia [and] to blame external players for destabilizing the situation inside the country."
Earlier on Wednesday, Kremlin spokesman Dmitry Peskov added his voice to those criticizing the intelligence report. "Russia did not interfere in previous elections and did not interfere with the elections mentioned in this 2020 report," he insisted. "Russia has nothing to do with any campaigns against any of the candidates. In this regard, we consider this report to be incorrect." Instead, he argued, the allegations were being used as an "excuse" to introduce new sanctions on the country.
Also on rt.com
Russian science company hit by Biden's 'chemical weapons' sanctions says US left firm in 'economic Guantanamo' without fair trial
You can share this story on social media: