Twitter 'STRIPS' Russian arms-control delegation account of followers after restoring it from mystery suspension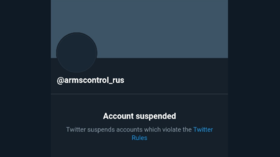 Russia's permanent mission to the OSCE has called for an international treaty regulating tech giants, after Twitter restored the account of Moscow's delegation at arms-control talks in Vienna, having banned it without explanation.
The angry diplomats, who believe the move may have been retaliation for voicing Russia's "alternative position … on the trends of the current [political-military] situation in Europe," were also upset after discovering that a large number of followers were removed from their page on the social media monopoly's platform.
The unexplained ban of the account was first reported on Saturday by Russia's chief negotiator, Konstantin Gavrilov, who pondered what the reason for the decision might have been.
Dear Friends & Colleagues, @armscontrol_rus has risen from the ashes! Thank you very much for ur valuable support that we highly cherish! Unfortunately,due to unknown reasons @TwitterSupport deprived us of all of our followers. We will be grateful for the subscription @mfa_russia

— Konstantin Gavrilov (@RusGavrilov) February 13, 2021
The frozen account carried the standard Twitter notice, stating that the platform "suspends accounts which violate the Twitter Rules" at the time of posting.
Later on Saturday, without any explanation, Twitter restored the account. Russia's permanent mission to the OSCE said the incident again proves "the need to develop and adopt an international, legally binding treaty that would regulate the activities of the largest Internet companies."
Various arms control talks in Vienna are hosted by the Organization for Security and Co-operation in Europe (OSCE). This week, the body hosted a key forum called the High-Level Military Doctrine Seminar, which is gathered once every five years. The Russian military, surprisingly, snubbed the event, citing "unfriendly" Western policies, but the Gavrilov-led delegation participated.
Also on rt.com
Cuomo critic LOCKED by Twitter for 'harm' of parody-quoting infamous anti-Trump rant by Rep. Maxine Waters
The Russian official on Saturday said he would be asking OSCE Secretary General Helga Schmid to join Russia's demand for clarification from Twitter, which he otherwise expected to be unanswered.
Think your friends would be interested? Share this story!
You can share this story on social media: