Questioning More for 15 years: RT frenzy grips DEEPFAKE Trump, Merkel, Macron & Biden on TV channel's b-day (VIDEO)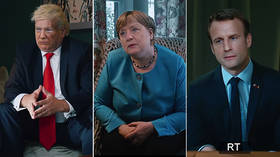 RT hit the airwaves 15 years ago, becoming quite a headache for some Western leaders. In a special birthday clip, we tried to imagine what might bother them most and whether they feel… celebratory.
Launching as Russia Today in December 2005, RT has enjoyed a special place in the heart of the Western establishment ever since. Never an MSM darling, we've been accused of election meddling by American spies and dubbed an agency of "influence and propaganda" by French President Emmanuel Macron.
After a decade-and-a-half of 'Question More' being out there on the media landscape, we decided to see what kind of effect our reporting has had on some of the creme de la creme of world politics. The result? Let's put it this way, we're not expecting birthday cards from Donald Trump, Angela Merkel, Emmanuel Macron or Joe Biden any time soon... at least not from their deepfake versions.
Think your friends would be interested? Share this story!
You can share this story on social media: