Conscript soldier kills officer with axe after row, then shoots & kills two other personnel in attack at Russian airforce base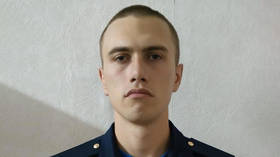 Three soldiers were killed and another injured after a 20-year-old Russian conscript attacked his colleagues near the city of Voronezh on Monday morning. The suspect was later arrested, after an extensive manhunt in the area.
The tragedy happened at the Baltimor military airfield near the city, which is 490km south of Moscow. According to preliminary reports, a service member, named as Anton Makarov by the authorities, first murdered a superior officer with an axe following a "verbal disagreement."
He then seized the man's pistol and opened fire on other personnel.
Also on rt.com
Believe it or not, Russia's Army has completely solved its notorious HAZING problem… or at least the Defense Ministry thinks so
The victims were Major Sergey Ermolaev, Corporal Sergey Kazhokin, and Private Ninail Aktaliev. Another private has been hospitalized with gunshot wounds.
A local resident, Makarov was drafted into the army in the spring of this year, the TASS news agency reported. The Telegram channel Baza revealed that he had previously studied for two years to become a police officer. His teachers at the Voronezh Institute of the Ministry for Internal Affairs allegedly expressed concerns about his "quick temper" and tendency to be "aggressive."
Another Telegram channel, Mash, claimed Makarov was raised by his grandparents after his mother emigrated to Israel.
Local media said the search for the escaped soldier was carried out by military and civilian police, along with members of the Russian National Guard. More than 100 personnel, and well as numerous drones, were involved in the operation, the RIA Novosti news agency reported.
Makarov was captured on Monday afternoon, the press service of the Western Military District confirmed, as he was heading to his family home in the Oryol region in a stolen car.
"There was a tip-off about the theft of a car near the village of Zemlyansky by a young man in uniform," a source told TASS. "Checkpoints were posted on the adjacent roads. After a pursuit, the hijacker was stopped on the road and detained, and he turned out to be the fugitive conscript Makarov."
You can share this story on social media: