Veteran Russian Foreign Minister Sergey Lavrov self-isolates after coming into contact with person diagnosed with Covid-19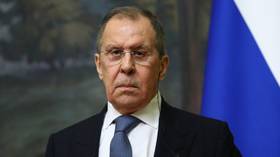 Russia's Foreign Ministry announced on Tuesday that the country's most senior diplomat Sergei Lavrov has entered self-isolation after coming into contact with a person infected with Covid-19. The veteran minister is 70-years-old.
Lavrov's previously arranged meetings and trips will be postponed, officials confirmed. Like most of Europe, Russia has experienced a dramatic surge in coronavirus cases, in recent weeks.
"He is feeling well," a Foreign Ministry statement read. The remarks don't specify with whom Lavrov, who has held his post since 2004, was in contact.
The long-serving minister visited Athens on Monday, where he held talks with Prime Minister Kyriakos Mitsotakis and Foreign Minister Nikos Dendias. He also met with the opposition leader Alexis Tsipras. On Wednesday and Thursday, Lavrov was supposed to travel onwards to Sarajevo and Belgrade, as part of his Balkan tour.
Last week, Russian Health Minister, Mikhail Murashko, also had to go into quarantine, after one of his family members tested positively for the coronavirus.
On Tuesday, Russia recorded its highest ever official daily Covid-19 death toll, with 320 fatalities. A day earlier, official figures revealed that the country had passed its previous high for new coronavirus cases, 17,347 in 24 hours. With 1,547,774 recorded infections, Russia is the fourth hardest hit nation in the world, behind the US, India, and Brazil, but in per capita terms it's somewhere around the European average.
If you like this story, share it with a friend!
Also on rt.com
As Covid-19 crisis deepens, Russian Health Minister reveals Sputnik V vaccine is performing well in large scale final trial
Think your friends would be interested? Share this story!