'People are tired, they want peace & quiet': Belarusian leader Lukashenko orders Interior Ministry to end 'unrest' in Minsk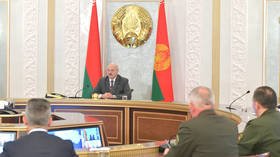 Belarus' government should "restore a peaceful country" for the people, President Alexander Lukashenko said, after a Security Council meeting on Wednesday. Foreign meddling in Belarus' affairs must also stop, he added.
"People are tired, people demand peace and quiet," the president said, as he ordered the state's interior ministry to restore order on the streets of Minsk. The capital has seen continuous and unprecedented protests for a week and a half since a controversial presidential election ended with Lukashenko being declared the winner.
Also on rt.com
Weaponized media coverage & off-the-scale hypocrisy from the West on display as 'regime change' in Belarus is promoted
Most rallies in the Belarusian capital were peaceful. However, the city has also seen clashes between demonstrators and police, which resulted in detentions and even some deaths, sparking accusations of police brutality. Now, Lukashenko has demanded the prevention of any further unrest.
"Most people are used to living in a peaceful country. And we should restore that peaceful country back to them," he said. The president also focused on the need to choke off what he called 'foreign finance' for the opposition. "I do not want to assume that all [protesters] are [getting paid]. Yet, a lot of money is coming in – and is coming in openly," he noted.
Lukashenko also asked the Ministry of Foreign Affairs to properly inform other nations about the situation in Belarus, while warning Western nations against any attempts to interfere in Belarus' internal processes. "We need to warn them … about responsibility over stirring up riots. Financing unrest basically means fanning it," he said, while expressing concerns over what he called increased NATO activity on Belarus' western borders.
Also on rt.com
Lukashenko says videos of Russian troops in Belarus are 'fake' – Minsk more worried about NATO movement in Poland & Lithuania
"We need to pay close attention to NATO deployments on the territories of Poland and Lithuania," he said, adding that such movements close to Belarus' western Grodno region "get you thinking." Nevertheless, he also said that such military posturing would hardly affect the situation in Belarus "Holding any military exercises now is counterproductive," he said.
His comments came on the same day that the EU held an emergency meeting on the situation in Belarus, with leaders announcing afterwards that they would impose new sanctions on those it deemed responsible for violence and for the "falsification" of election results.
Think your friends would be interested? Share this story!
You can share this story on social media: