Despite city reopening, Moscow's July Covid-19 infection rate down 50% on June – but mayor says situation may worsen again in fall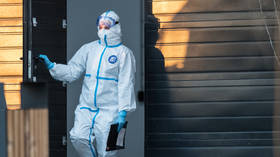 Naysayers cautioned Moscow was getting back to normal too quickly. With the mask regime loosened, bars and eateries back open and normal commercial activities resuming, many claimed a rise in coronavirus infections was inevitable.
Now, new data suggests the pessimists were wrong. In July, Russia's pandemic crisis center reported 664 Covid19-related fatalities in the capital compared to 1,319 deaths in June. What's more, while 19,761 new coronavirus cases were registered in Moscow in July, that's over 50 percent less than June's tally, according to estimates from TASS.
In June, the crisis center said that 40,807 people had been infected, meaning a 51.6-percent drop occurred.
Also on rt.com
Moscow recorded nearly 60% more deaths than normal in May as Covid-19 pandemic ravaged Russian capital
Moscow announced 28,771 recoveries, which is fewer than in June, when 70,218 people recovered within the month, according to official data. The proportion of recovered patients in the Russian capital grew from 67.9 percent to 74.2 percent.
On Thursday, Moscow Mayor Sergey Sobyanin told news channel Russia 24 that he feels it's necessary to start this year's seasonal influenza vaccination process earlier than usual because of the pandemic. Sobyanin warned that the situation may get worse when the number of acute respiratory viral infections and influenza cases grows.
"In order to prevent that from happening, it is necessary to start seasonal influenza vaccination earlier than in previous years, and, of course, wait for a vaccine, if it appears," he said, expressing hope that a vaccine will be available in the coming months.
Also on rt.com
As Russia's coronavirus vaccine nears completion, Moscow residents will be offered immunisation for FREE
About 6,500 hospital beds are available in Moscow to accommodate patients with coronavirus infection, the mayor added. He noted that during the peak of the crisis, 23,000 had been available, but this has been reduced as facilities reverted to their normal functions.
As of July 31, the number of the active cases – patients who are continuing treatment – decreased over the month, by almost 14.4 percent, to 57,731. This corresponds to the figures from the beginning of May.
Like this story? Share it with a friend!