Critical success: 10-month trial of Russia's floating nuclear power plant reactor complete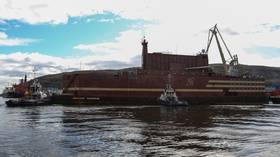 Russia's pioneering floating nuclear power plant is one step closer to becoming fully operational after a successful trial of its nuclear reactor cores. The plan is to provide energy to remote coastal areas on demand.
Akademik Lomonosov is the experimental vessel built for Russian nuclear energy giant Rosatom as a proof of economic viability of a sea-mobile nuclear power plant. Its reactor cores were loaded with fuel rods in May 2018 and have since proven their safety and reliability, according to its subsidiary.
"On March 31, 2019 reactors No 1 and 2 of the Floating Power Unit (FPU) have successfully reached 100 percent power capacity. The trial confirmed reliable operation of primary and auxiliary equipment of the FPU and the automation of its technological processes," the subsidiary, Rosenergoatom, said in a statement on Wednesday.
Also on rt.com
Nuclear power becomes critical to Arctic dominance
The end of trial will allow the power plant to get its operation license, which the owner expects will happen in July. It will then sail to Pevek, a port city on the Arctic coast of the Chukotka region, where work is currently underway on coastal infrastructure needed to attach Akademik Lomonosov to city power and heating grids. In December, the floating power plant will begin supplying energy to the city, which will allow phasing out of two onshore power stations.
The floating power plant has two KLT-40 pressurized water reactors, which are also used on Russia's Taimyr-class icebreakers and the Arctic-capable container carrier Sevmorput. Together the two cores generate up to 70 MW of electric power or up to 300 MW of heat, which is enough to service a northern city of up to 100,000 residents, according to Rosatom.
The company sees the floating power plant as a commercially viable solution for power-intensive consumers in remote locations like isolated settlements, islands or large offshore oil rigs. The heat power may alternatively be used to desalinate seawater rather than keep homes warm. Rosatom is currently designing a smaller vessel platform equipped with more powerful RITM-200M-type reactors as part of its research.
Also on rt.com
Floating nuclear power plant to light up China
Using ships as sources of power for consumers on land is hardly new. The US-built MH-1A floating nuclear power plant was deployed to Panama Canal Zone in late 1960s and retired after land-based generation capacity was ready to substitute it. However, high operational costs and safety concerns have kept this type of energy source away from the commercial market. China is another nation currently exploring the potential for floating nuclear power plants.