Silent and powerful: Nuclear underwater drone carrier set afloat – Russian MoD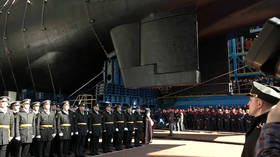 The Russian Navy's largest submarine designed to operate nuclear-tipped underwater drones, considered by experts to be a "retaliatory weapon," was set afloat in Russia's White Sea, according to the Ministry of Defense.
The special-purpose 184m submarine was floated out at the Sevmash Shipyard in northern Russia, where the ship's commander smashed the traditional bottle of champagne against the sub. President Vladimir Putin watched the submarine's launch ceremony via a TV link-up, media reported.
The 14,700-ton Belgorod submarine was built as a carrier of a new strategic drone propelled by a miniaturized nuclear reactor called 'Poseidon'. The long-range submersible drone reportedly has two speed modes, which makes it capable of traveling at low speed approaching the target, while greatly boosting its speed to escape if detected. Once within range of its target, it can detonate the nuclear payload, destroying an enemy's coastal assets, such as naval bases or aircraft carrier groups.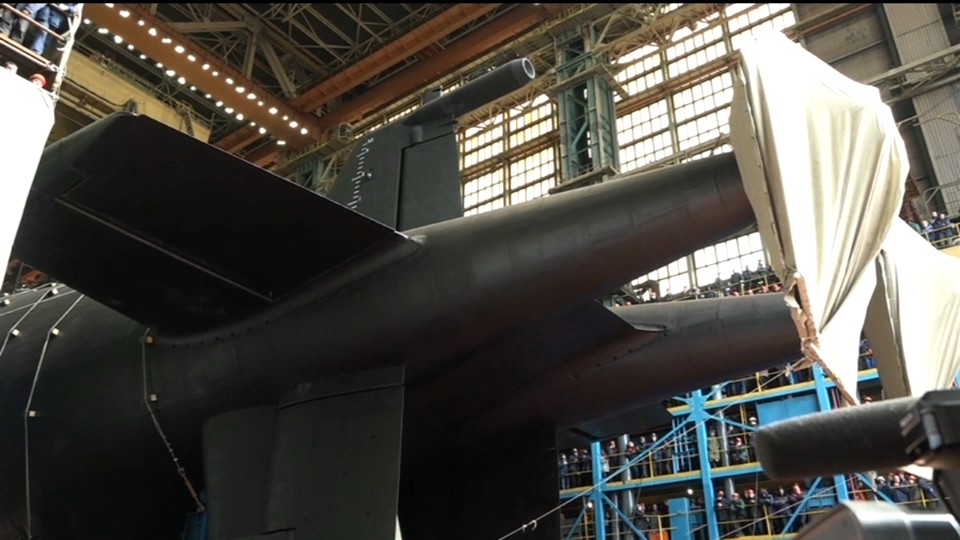 The Poseidon, previously known by its code name 'Status-6', was announced by President Putin last March as a part of a group of nuclear weapons meant to counter the US nuclear threat. Experts consider the new system, which consists of nuclear-powered drones and the submarine carrier, to be a "retaliatory weapon in the event of nuclear aggression against Russia."
According to military sources, the submarine carrier will be completed while at sea. Following nuclear reactor tests and sea tests, which are scheduled for 2019 and 2020, the Belgorod will be placed in the service of the Russian Navy.
Also on rt.com
1st ever VIDEO of Russian Poseidon underwater nuke drone 'field-test' released by MoD
In February, the Russian MoD released the first footage of the Poseidon system underwater. Back then, the Defense Ministry also announced that the 'field test' phase of the weapon system was successfully completed.