'Can I unsee this?' Wacky election RAP VIDEO by elderly MPs from Moscow region stirs voter sentiment
Published time: 20 Apr, 2019 18:47
Edited time: 22 Apr, 2019 08:22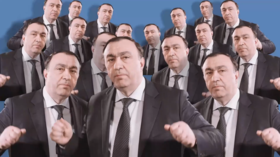 Several candidates from the ruling United Russia Party around Moscow have recorded a freaky rap video to prove that "election is fun" and to invite everyone to the polls. Voters, however, don't seem to have enjoyed the comedy.
In the clip, veteran politicians, most of them running for re-election in the Moscow Region's Odintsovo District, are featured rapping the names of the streets and villages in their constituencies to a rather catchy beat.
The creation seems to have been inspired by the 'A Cappella' videos, made by The Tonight Show on NBC, in which the viewer's screen is divided into squares of different colors to allow multiple artists to perform at the same time.
But the idea that brought show presenter Jimmy Fallon and his team millions of clicks online didn't work out too well for the Moscow Region candidates.
"They just called from the psychiatric ward and want their patients back," one viewer said about the clip on Instagram. And this wasn't the only comment that cast doubt on the mental state of the MPs.
"Elderly people pretending to be children in a sand box. Low-class, tasteless and just disgusting," another commenter wrote.
"Well, now we know for sure whom we shouldn't vote for," a fellow user stated, with another asking for advice on how to unsee the clip.
Also on rt.com
'F that!': Duma may allow musicians to shout obscenities from stage
Comments like "Cool approach. Well done" or "That's so positive. I like it" were clearly overwhelmed by the negative responses.
But one commenter loved the clip so much, he suggested that candidates should quit politics and concentrate on their musical career, entertaining the good folk of Odintsovo.
Think your friends would be interested? Share this story!