Leftist activist Udaltsov goes on hunger strike protesting alleged unlawful detention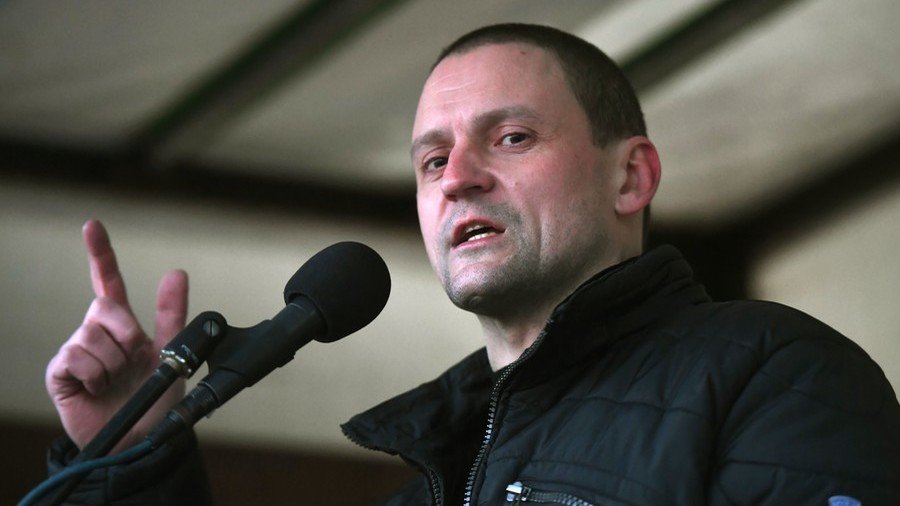 The head of the Russian "Leftist Front" movement, Sergei Udaltsov, has been placed in hospital after going on hunger strike in protest over civil custodial sentence he received for violating the law on protest rallies.
Interfax news agency quoted Udaltsov's spouse, Anastasiya Udaltsova, as saying that she visited her husband in the hospital and found out that his condition was worsening. She also said that doctors started giving Udaltsov intravenous injections to support him as he refused to eat and drink.
The woman also said that Udaltsov told her that he had started hallucinating because of dehydration.
On August 14 Sergei Udaltsov was sentenced to 30 days of civil arrest for repeated violation of the Russian law on street protests. On August 19 a member of the Public Monitoring Commission of Moscow, Ivan Melnikov, told reporters that Udaltsov had spent five days on a "dry" hunger strike as a protest against this ruling.
On Monday afternoon Kommersant daily reported that Udaltsov was transferred back to the detention center from the hospital adding that the hunger strike continued.
Udaltsov has become famous in mid-2014 after a court in Moscow convicted him and his closest aide, Leonid Razvozzhayev, of organizing and provoking mass unrest at the 2012 state-sanctioned rally against alleged violations at parliamentary polls. Investigators have established that the operation was ordered and financed by Georgian politician Givi Targamadze, described by the mass media as a leading expert in the so-called 'color revolutions' – street protests against allegedly undemocratic steps of the authorities that lead to quick change of the political regime.
Udaltsov and Razvozzhayev were sentenced to 4.5 years each. Razvozzhayev was released from prison in April 2017 and Udaltsov walked free in August of the same year.
If you like this story, share it with a friend!
You can share this story on social media: