'Meet you at the polling station!' Politician's wife hopes to raise turnout with racy photo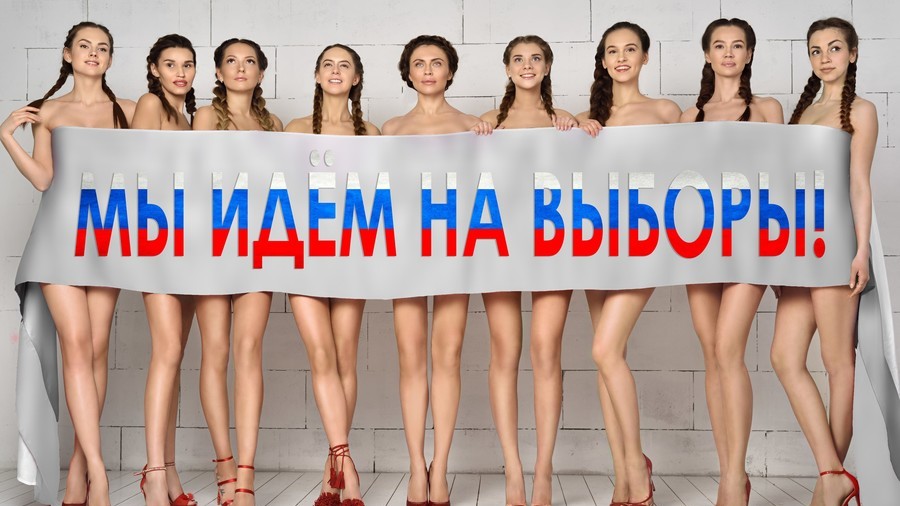 A risqué image of a regional deputy's wife surrounded by unclothed models is the latest stunt to encourage Russians to vote in the presidential election on Sunday.
In the picture, which has attracted national media attention, Yulia Dyatlova stands surrounded by eight long-legged young women, apparently nude, save for a banner proclaiming "We are going to the elections!" With the promise "We will meet you at the polling station!" the photo was posted on the social media feed of an image-making agency owned by Dyatlova, the wife of Aleksandr Dyatlov, a ruling United Russia party deputy in the local assembly of Arkhangelsk, a Polar Circle Russian city.
Dyatlova said that the nudity is not there to titillate, but to highlight a common bond between the amateur models.
"On the outside all of these women are different, and hold different jobs – an engineer, a teacher a student, a fitness instructor. But we all want to make the world more beautiful, and our country better, we wanted to show that all types of people should be interested in the future," Dyatlova's press release explains, mentioning that her husband is neither jealous nor embarrassed of her appearing in the image.
This is just the latest in a series of provocative online stunts calculated to encourage Russians to turn out in the presidential vote, for which Vladimir Putin remains the overwhelming favorite.
An unattributed viral video appeared last month showing a woman seducing a teenager on a club dancefloor, only to cut the encounter short when she found out that he wasn't "mature enough to vote."
The Russian edition of Maxim magazine also published online stickers with images of voluptuous cartoon women and double entendres such as "Premature volition" and "You are my electorate," as well as an erotic photoshoot of its own, with a polling station as the setting.
You can share this story on social media: