'North American Dead End': Lawmaker proposes new name for US embassy street in Moscow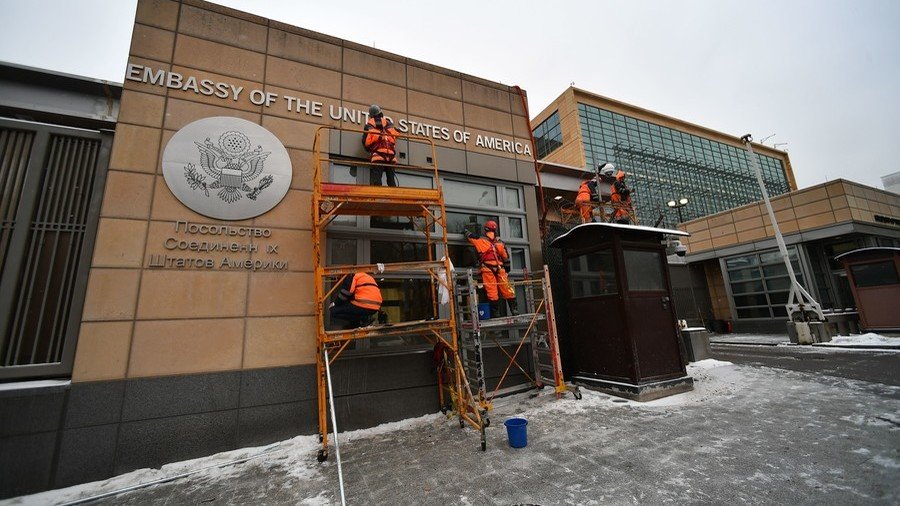 A lawmaker from the nationalist LDPR has proposed renaming the Moscow street where the US embassy is located as 'North American Dead End' – and City Hall says it intends to consider this option.
MP Mikhail Degtyaryov, who currently chairs the lower house Committee for Sports, Tourism and Youth, recently came up with the initiative to rename an alley in the direct vicinity of the US embassy in Moscow to 'North American Dead End,' so that the embassy's address would officially become 'North American Dead End, 1.'
Currently, the address of the US embassy in Moscow is listed as Bolshoy Devyatinsky Lane, 8 – based on the name of the lane on the other side of the building.
On Monday, Degtyaryov's press service reported that Moscow City Hall has received the proposal and promised to look into it at the nearest session of the City Names Commission later in February.
The initiative is apparently a reply to the recent decision by the authorities in Washington DC to rename a segment of Wisconsin Avenue in front of the Russian embassy as Boris Nemtsov Plaza, after the Russian opposition politician who was shot dead in Moscow in 2015. The decision was made in early January, but the actual renaming will take place on February 27 – the anniversary of Nemtsov's death.
The head of the LDPR, Vladimir Zhirinovsky, has commented on the US plan by saying that it was clearly an attempt to tarnish Russia's reputation, adding that Washington city council should have studied the crime statistics in the Russian city of Nizhny Novgorod at the time Nemtsov was governor of the region.
In July 2017, a court in Moscow convicted five men from Chechnya of murdering Nemtsov for a fee paid by another suspect, who remains at large. The convicts were sentenced to prison terms between 11 and 20 years, with the longest term received by the actual hitman. One of them, Zaur Dadaev, had reportedly confessed his involvement in the murder and said it was revenge for Nemtsov's "negative comments on Muslims and Islam."
You can share this story on social media: