Man detained after attempted arson attack on Yeltsin monument in Ekaterinburg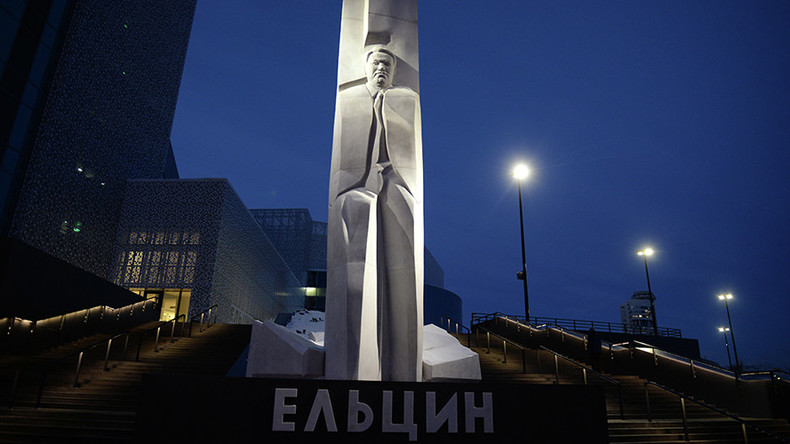 Police in the Russian city of Ekaterinburg have detained a man who attempted to set fire to a monument honoring one of the most famous natives of the city – the first president of the Russian Federation, Boris Yeltsin.
The attempted arson took place at about 5:20am local time on Tuesday, the press department of the Yeltsin Center – a social, cultural and educational facility – reported. A man standing near the monument to Yeltsin set fire to a bag he was carrying, after which security guards quickly put out the fire and detained him. The incident caused no damage to the monument, and the detained man was handed over to police.
A spokesman for the regional police directorate told TASS that the man was an unemployed 31-year-old from "another city" who had been previously convicted of inciting hatred and disorder. The spokesman added that local investigators were investigating the attempted arson as vandalism, meaning the suspect could face up to three months in detention if convicted.
A representative of the unregistered extreme left political movement Another Russia, Aleksendr Averin, told Interfax that the detained man was a member of the organization and identified him as Igor Shchuka. He added that the attempted arson was a demonstration of protest timed to coincide with the 100th anniversary of the Bolshevik revolution.
The 10-meter obelisk in memory of Yeltsin was originally installed in Ekaterinburg in 2011, three years after Yeltsin's death. In late 2015, the memorial center to Boris Yeltsin was opened near the monument. The huge three-story modernist building holds tens of thousands of exhibits related to Russia's first president and the 1990s, which were seen as a transition period from the planned economy to free market.
The monument has drawn criticism from leftist and centrist politicians and groups since it opened. In 2012, unidentified vandals threw paint at the monument and broke the lettering on the obelisk. Officials from the Yeltsin Center voiced their indignation over the incident, but Ekaterinburg Communists said they understood and shared the vandals' feelings and were ready to sponsor a lawyer to defend the culprits if they were put on trial. In addition, the Communists promised to support them through public protests.
Boris Yeltsin was born in the Urals and commenced his political career in Ekaterinburg (Sverdlovsk in Soviet times), in time reaching the top regional post in the Communist Party hierarchy before moving to Moscow to become a deputy of the parliament.