'War against memory': Russian ambassador denounces Polish bill targeting WWII sites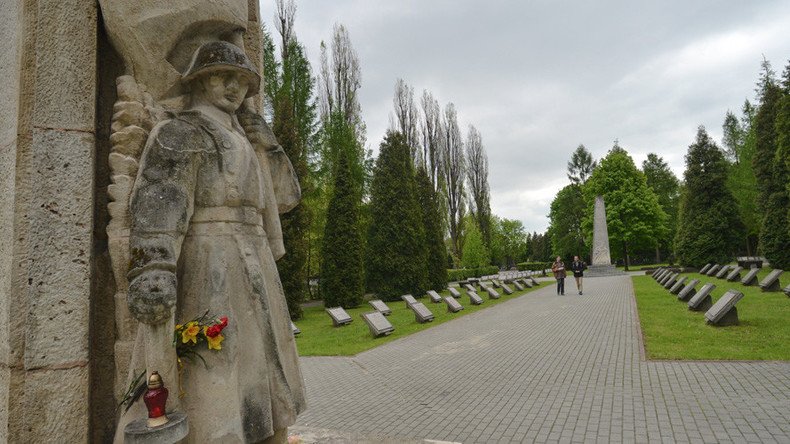 Russian Ambassador to Poland Sergey Andreyev has said that the possible removal of Red-Army monuments in Poland would hurt the feelings of the Russian people, and complained that Polish politicians and officials had complicated dialogue on the issue.
In an interview with RT, Andreyev said that monuments erected on burial sites and private land were excluded from the law banning symbols relating to communism and other totalitarian regimes in Poland, but certain other details has escaped the public's attention.
"Polish officials are assuring us that military burial sites are respected and honored by the Polish authorities and the Polish people without regard to the exact circumstances of the death of the military servicemen who are buried there," Andreyev said.
"But, as they say, the devil is in the detail – these modern interpretations have the following subtext: the Polish side recognises no difference whether they were Soviet soldiers who liberated Poland, or servicemen of the Wehrmacht who had occupied it," he added.
The ambassador also noted that Russia was categorically opposed to certain elements of the Polish 'decommunization law,' which describes military monuments that stand outside the burial sites as "communist propaganda."
"What is the connection between these memorials and communist propaganda? They have been installed in memory of 600,000 Soviet soldiers and officers who died while liberating Poland in 1944-45," said the diplomat.
"These are monuments to people who saved Poland, because if it was not for them, there would be no Poland at all today – either communist or capitalist. And there would be no Poles as a people," he added, referring to Nazi plans to exterminate or exile Polish people.
Andreyev also noted that many existing monuments had originally been erected at smaller burial sites from which human remains were subsequently moved to proper cemeteries in the 1950s and 1960s. However, these monuments continued to be places where locals gathered to express their gratitude to those who died while liberating their country.
"Therefore, when they make a decision to remove these monuments, the war is waged not against the monuments but against the memory - the memory of those who were liberating and saving Poland."
The ambassador stated that Russian diplomats and politicians had previously tried to reach some understanding with their Polish counterparts regarding controversial parts of their history, but recently came to the conclusion that this would make no sense under current conditions.
"Our views and appraisals concerning the common moments of our history are completely different, it is totally obvious that we would not be able to convince each other of anything. Probably, it would be the right thing to do if we admit that each side has the right to their own vision of history, but… the each must also be sensitive to issues that are of particular importance to the other side," he said.
"Unfortunately, at the moment, there is no basis for resuming our discourse in the framework of political dialogue over historical issues," Andreyev concluded.
Last June, the Polish parliament passed a package of legislative amendments that banned propaganda relating to communism or any other totalitarian regime. This extended to names on buildings and other architectural sites. Potentially, the bill could result in the removal of many monuments dating from the Soviet era, including memorials to the Red-Army soldiers who died liberating Poland from the Nazis.
Poland began the implementations of the legislation in September by bulldozing a mausoleum that housed remains of 56 Soviet soldiers who died in battle while liberating the town of Trzcianka.
The Russian Foreign Ministry issued a statement in which the razing was described as "a sacrilegious act of vandalism" that was "unacceptable in terms of existing inter-state and inter-governmental documents." Russian diplomats also said that the Polish government "was fully aware" of Moscow's staunch objection to the removal.
"We consider this outrageous incident an illustration and direct consequence of the Polish government's anti-Russian policy in the memorial field among others," the ministry said in the statement, adding that lack of respect to "the memory of the war and its heroes" displayed by Poland is "akin to barbarity."
You can share this story on social media: