Russian senator blasts new Canadian sanctions bill as undermining international law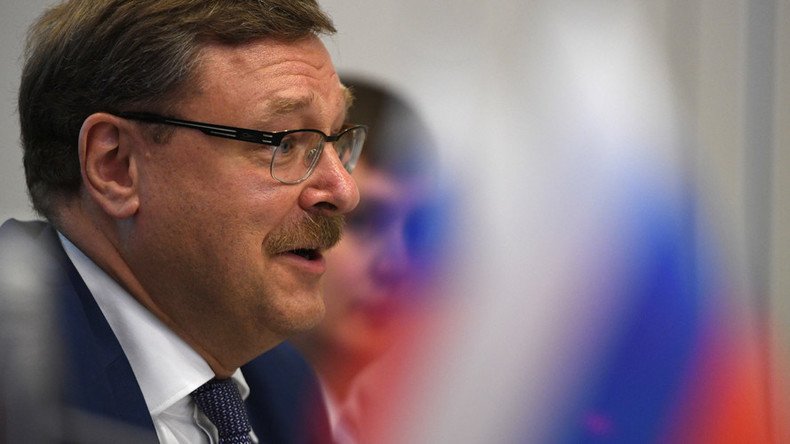 Russian Senator Konstantin Kosachev said the Canadian law 'On the victims of corrupt foreign governments' undermines the foundation of international law, which should be agreed on voluntarily on the basis of mutually accepted principles.
"This is yet another confirmation of the existence of the dangerous tendency when national legislation is applied to international relations. This undermines the very foundation of international law that was built on agreed positions of various parties as well as on voluntary acceptance of some common rules," Konstantin Kosachev, the head of the Upper House Committee for International Relations, wrote on his Facebook page on Thursday.
He added that Western nations were continuing to inject ideology into international relations. "They increasingly resemble some liberal analogues of the Soviet Union in which foreign policy was determined by ideology. And, of course, this does not add up to relieving tensions in the world, tensions that were largely caused by the West's transition to the language of ideologically motivated sanctions," Kosachev wrote.
The senator was responding to news that the Canadian parliament had passed the law 'On the victims of corrupt foreign governments,' described by the media as an analogue of the US' Magnitsky Act of 2012. The Canadian law allows asset freezes to be imposed and visa bans on citizens of Russia, Iran, Venezuela, Myanmar, and Vietnam, which the Canadian government recognizes as violators of human rights in their countries.
"I even cannot decide which trait of this recently passed act is more bizarre – the blind imitation of their 'big brother' actions that makes the whole action a blatant parody or their bombastic yet still provincial claim for the status of a global ombudsman," Kosachev said.
"Who has empowered Canada with the right to do such things in the international arena, to decide who is corrupt in other nations and who is not, to apply repressive measures to foreign citizens?" he asked.
The Russian senator also stated that Canada's actions would not be left unanswered, but added that he expected Western nations to describe Russia's reciprocal steps as "resistance of oppressive regimes to the promotion of democracy."
"Basically, this is why such acts are passed in the first place – the side that first denounces the other side's violations becomes by definition without sin."
The Magnitsky Act, which was introduced in 2012, bans entry into the US to a list of Russian citizens who Washington accuses of being complicit in the death of a Russian lawyer named Sergey Magnitsky, who worked as an accountant for US-British investor William F. Browder. Magnitsky died in police custody in 2009 after being arrested by the Russian authorities in connection with a fraud investigation. The adoption of the bill led to a substantial cooling in Russia-US relations.
Russia replied with a law targeting US citizens involved in kidnapping and unlawful imprisonment, baseless prosecution, and baseless and unjust punishments administered to Russian citizens. Russia banned adoption of Russian children by US citizens or by proxy of US organizations, due to the unusual number of Russian children adopted in the US being subjected to cruel treatment or even dying, while the US authorities blocked Russian diplomats from investigating these cases.
Russian officials have repeatedly stated that sanctions would not influence the country's internal policies. In August 2016, the independent public opinion research center Levada conducted a poll that showed that 70 percent of Russians wanted the government to continue to implement independent policies in spite of sanctions.
You can share this story on social media: