Children's rights ombudsman opposes plan to punish parents for refusal to vaccinate kids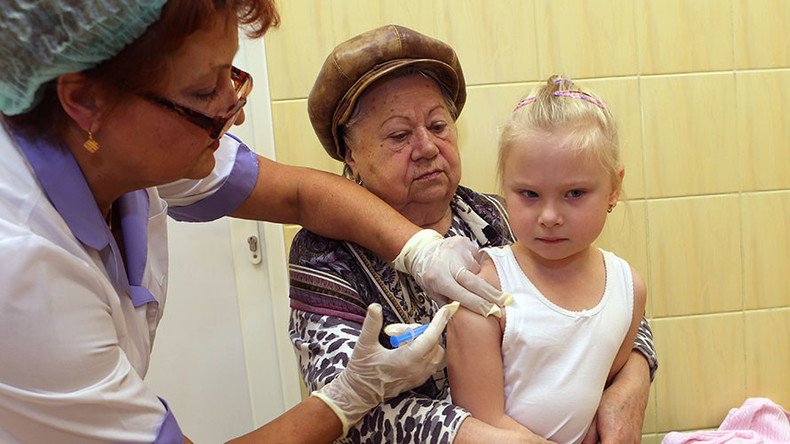 The Russian children's rights ombudsman has opposed an idea to sanction parents for refusal to vaccinate their children, claiming healthcare can't be enforced by punishment and that material restrictions could hurt kids instead of protecting them.
"I understand the Health Ministry's desire to boost the prevention of illnesses, but I cannot agree with the proposal to punish the parents of non-vaccinated children by refusing to give them a paid sick leave. Eventually, such a measure would hurt the children again – they'll be deprived of proper care when parents decide to work instead of staying with them," Anna Kuznetsova wrote on her Facebook page.
Kuznetsova's post was a reaction to the position of Health Minister Veronika Skvortsova, expressed in a Sunday interview with NTV.
"If your child gets sick and it's your fault as you had refused to vaccinate, it makes sense to compensate your sick leave not in the same amount as usual," the minister said, adding that the state has no opportunity to apply "direct influence" to parents who refuse to vaccinate their kids without a legitimate medical reason.
"I hope this initiative will never be implemented," Kuznetsova wrote in reply. She also wrote that it was not clear how to establish that a particular illness was caused by an earlier refusal to vaccinate, and that attempts to punish parents whose unvaccinated children get sick could prompt compensation demands from those whose children got sick despite being vaccinated.
"Punishment cannot be used as a stimulus to take good care of one's health. What it can cause is a growing number of those who refuse to call the doctor, and go on to treat their children by themselves," she wrote.
The discourse over parents' responsibility for the healthcare of their children intensified after in early September news outlets of Russia's second largest city of St. Petersburg that a 10-year-old HIV-positive girl had died because of her adoptive parents' refusal of treatment for religious reasons.
St. Petersburg authorities and medical specialists reportedly tried to enforce the much-needed therapy for years, but the girl's parents refused to allow her the treatment or to be hospitalized.
The deeply-religious couple refused to give medicine to the girl, as they believe modern treatments do more harm than good, Rosbalt news agency cited the local AIDS center as saying.
"They were convinced that AIDS is a myth invented by greedy pharmaceutical companies," representatives of the St. Petersburg AIDS center have told reporters.
The St. Petersburg directorate of Russia's agency for especially important or highly resonance crimes – the Investigative Committee – has launched an investigation into the child's death.
You can share this story on social media: