Russia rejects Ukraine's accusations of preparations for terrorist attacks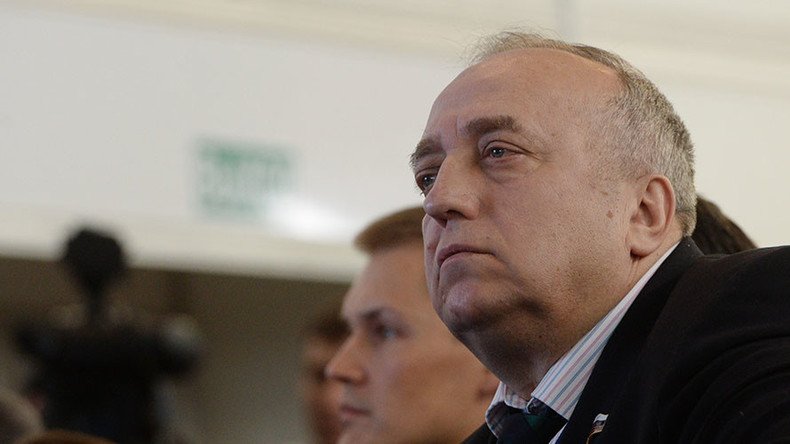 A senior Russian senator has rejected recent statements of Ukraine's security officials reading that Russia was allegedly preparing terrorist attacks on Ukrainian territory and noted that Moscow attached primary importance on good relations with neighbors.
"I can refute this with 100-percent [certainty]. Nothing of this kind has ever been done and it never will be. We are not listing this as a task. As for the large-scale operation the Ukrainian side is talking about, Russia is one of the few countries that are not interested in this in any way, the relations with our neighbor are very important for us," deputy head of the upper house Committee for Defense and Security, Senator Frants Klintsevich, told RT.
The comment came shortly after the head of Ukraine's Security Service, Vasiliy Gritsak said in a TV interview that Russian special services were allegedly complicit in several terrorist attacks in Ukrainian cities. Gritsak also said that by doing this, Russia allegedly sought an excuse for a military invasion on Ukrainian territory.
Klintsevich also said that he possessed verified information that Ukrainian special services were preparing special units to launch acts of sabotage on Russian territory. He noted that this could be proven by the fact that the FSB had prevented dozens of attempted attacks in Crimea and in mainland Russia.
"The SBU [Ukrainian Security Service] and Ukraine's General Directorate for Intelligence have been preparing an immense number of terrorist attacks which were prevented by our special services. I am talking about Crimea and other Russian regions. Only in Crimea, we have prevented about 20 attacks with prepared explosive devices and set targets. In my opinion, Ukraine is a terrorist state," the senator stated.
Klintsevich also noted that Gritsak's statement was a part of a larger plan prompted by Kiev's urgent need for funds. "They have lost a court battle with Russia concerning their debt. They will also have to return the money they had taken from the IMF. They need money for development. They have only one option left – war," he said. "They will start this was and they will accuse Russia of aggression, like Georgia did some time ago."
The senator was referring to the August 2008 situation in which the Georgian military attacked the self-proclaimed republic of South Ossetia in violation of earlier agreements, and targeting the Russian peacekeepers stationed in the region under the license of the CIS bloc. Russia intervened and repelled the attack in three days.
About a year ago, the FSB reported that it had successfully prevented several terrorist attacks in Crimea, which it says had been planned by the Ukrainian Defense Ministry's intelligence agency.
The Ukrainian Defense Ministry has denied its involvement and that the detained suspects were Ukrainian intelligence officers. Russian Foreign Minister Sergey Lavrov said that Moscow had additional irrefutable proof that the foiled attacks had been planned and prepared by Ukraine. He added that Russian authorities were ready to present this evidence to their Western partners if the latter were interested in taking steps to prevent such attacks from happening in the future.
Back then, Russian President Vladimir Putin commented on the FSB report, saying that Kiev had turned to the "practice of terrorism," adding that this has made any talks with the Ukrainian regime pointless. "I think it's obvious that Kiev's current authorities are not seeking ways to solve problems through negotiations, but have turned to terrorism," Putin said, adding that this new development was alarming. He also promised to discuss the issue with Russia's American and European partners.
Additionally, Russia's Security Council held a special session dedicated to the situation and ordered to take measures to reinforce Crimea's security systems and organizations.
You can share this story on social media: