Gorbachev blames current Russia-US spat on Washington's selfishness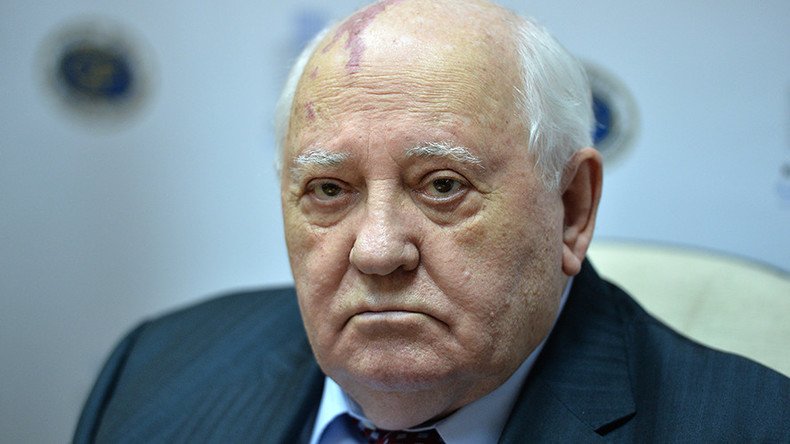 Ex-Soviet President Mikhail Gorbachev has said that the root of the current sad state of relations between Washington and Moscow can be found in the crowing US politicians engaged in decades ago, when they declared themselves 'victors' of the Cold War.
"It was not our fault that the USA, instead of stating our common victory over the Cold War, decided to announce it as their victory in the Cold War. This was the root of all mistakes and failures that have undermined the foundation of the new relations between our countries," Gorbachev commented on the opening of a 'Gorbachev and Reagan' sculpture in Moscow on Monday.
Gorbachev also urged the leaders of the two nations to do everything possible to find a way out of the current dangerous dead end.
Gorbachev has previously blamed the US for the ongoing political crisis and warned that the new Cold War could break out if current trends in international politics continue.
In late 2015, he openly accused the US of dragging Russia into a new Cold War that could very well lead to an open "hot" armed conflict.
"Plainly speaking, the US has already dragged us into a new Cold War, trying to openly implement its idea of triumphalism. What's next? Unfortunately, I cannot be sure that the Cold War will not bring about a 'hot' one. I'm afraid they might take the risk," Gorbachev said in an interview with Interfax.
The former Soviet leader also sharply criticized the sanctions imposed on Russia by the United States and its allies.
In the USSR, Mikhail Gorbachev served as General Secretary of the Communist Party's Central Committee from 1985 until 1991, and as the Soviet Union's only president from 1990. He led the controversial 'perestroika' reforms that are believed to have accelerated the dissolution of the Soviet Union. Gorbachev's rule was marked by a considerable warming in relations with the West. In 1990, he was awarded the Nobel Peace Prize for bringing the Cold War to a peaceful end.
You can share this story on social media: