Fresh criminal cases started against Ukraine military over Donbass shelling – Russian investigators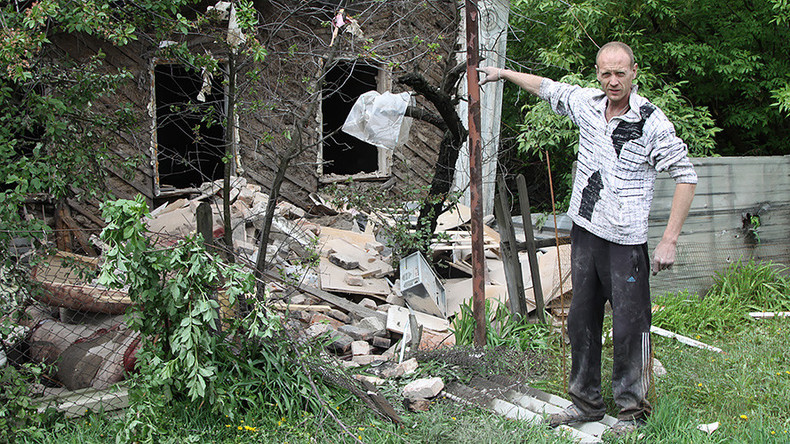 The Russian Investigative Committee has launched criminal cases against Ukrainian servicemen and officials responsible for indiscriminate use of artillery in the self-proclaimed Donetsk Republic that resulted in civilian casualties.
A spokesperson for Russia's Investigative Committee (the federal agency dealing with especially important and resonance crimes) told reporters on Friday that the criminal case had been started into the artillery raids that took place in the villages of Yakovlevka, Yasinovataya and Dokuchayevsk, as well as in the Petrovsk district of the city of Donetsk between May 1 and May 5, 2017.
"As a result of this shelling, one civilian was killed and four more, including a pregnant woman, were wounded. Criminal cases were started into the use of banned methods of warfare," Svetlana Petrenko said in comments with Rossiiskaya Gazeta.
She emphasized that the agency intended to prosecute not only the military servicemen who conducted the actual artillery raids, but also all officials who ordered them.
Russian law allows the Investigative Committee and other agencies to launch cases into crimes committed on foreign soil if these crimes target Russian citizens or violate internationally-accepted human rights.
Earlier the Investigative Committee initiated several cases against Ukrainian officials and military officers.
In August 2016, it pressed charges of using banned methods of warfare in Donbass, eastern Ukraine, against the Ukrainian defense minister and several top military commanders. The agency stated that it had obtained sufficient proof that crimes against civilians in the self-proclaimed republics of Lugansk and Donetsk had been committed on the orders of senior Ukrainian military commanders.
In September, the Investigative Committee launched additional cases against Ukrainian military commanders over the attempted genocide of Russian-speakers in the self-proclaimed Donetsk republic.
In late 2016, the agency also charged two senior officers of the Ukrainian Defense Ministry with attempted murder after establishing that their units had deliberately and repeatedly shelled Russian territory in 2014.