Putin vows to prevent 'color revolutions' for Russia and its Eurasian allies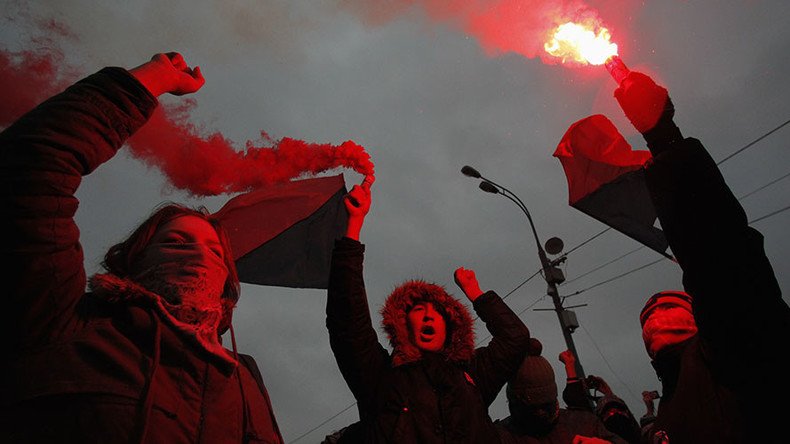 Russia will not allow external forces to destabilize its internal politics through protests and violence, and will protect its allies from this threat, President Vladimir Putin said in a televised interview.
"We know various theories that are being implemented in various parts of the world and lead to serious instability in these regions. Of course we must not allow anything of this sort and we will by all means take appropriate actions in Russia and support our partners in the CSTO," Putin told the Mir TV channel.
The CSTO is a military bloc that started its work in 2002. Currently CSTO unites six ex-Soviet nations – Armenia, Belarus, Kazakhstan, Kyrgyzstan, Tajikistan and Russia.
Change of political regime through orchestrated street protests rather than lawful democratic procedures is known as 'color revolution' because organizers of the first such events coined catchy and visibly non-violent names for them, for example the 2003 Rose Revolution in Georgia and 2004 Orange Revolution in Ukraine.
Senior Russian officials have repeatedly named color revolutions as the primary threat to international security and balance of power.
Putin has previously called color revolutions the main tool used by destructive forces in the geopolitical struggle.
"In the modern world, extremism is used as a geopolitical tool for redistribution of spheres of interest. We can see the tragic consequences of the wave of the so-called color revolutions, the shock experienced by people in the countries that went through the irresponsible experiments of hidden, or sometimes brute and direct interference with their lives," he said in late 2015.
In mid-2015, Russian Defense Ministry ordered a major research of the color revolutions stating its goal as prevention of the situations that Russia faced in 1991 and 1993.
Also in 2015, the head of Russia's Security Council, Nikolay Patrushev, promised to develop a detailed plan of action aimed at preventing color revolutions or any other attempts of forceful change of lawfully elected authorities through mass street protest. He said the council had prepared a list of proposed measures that could negate the possible threat, including some steps against "network protest activities" and propaganda work against the "romantic revolutionary stereotype."
You can share this story on social media: