State Duma speaker warns US against taking military action that violates international law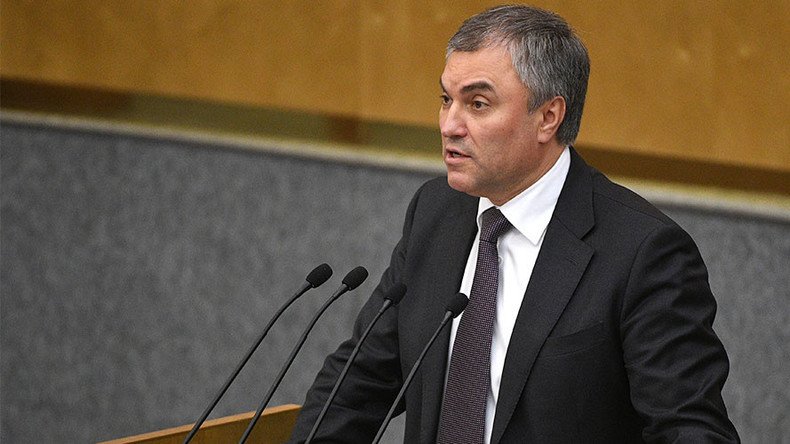 The chairman of Russia's Lower House, Vyacheslav Volodin, has said that the United States could reap undesirable consequences if it takes on the role of world policeman, though Russian would prefer not to see this happen.
"The role of world gendarme, especially one that acts while ignoring international laws, is fraught with ominous consequences," Vyacheslav Volodin was quoted as saying by TASS on Friday, soon after the media reported that the US had launched a massive missile strike on the Syrian military's Shayrat air base.
Two US ships launched 59 cruise missiles at the base. According to the Russian Defense Ministry, 23 hit their targets, destroying a material storage depot, a training facility, a canteen, six MiG-23 aircraft in repair hangars, and a radar station. According to Syrian officials, at least five people were killed in the strike, of whom two were soldiers and three civilians.
The State Duma speaker said that the US missile strike had attacked a sovereign state and United Nations member using "an absolutely fictitious excuse," noting "we all remember exactly how the same excuse was used to start airstrikes and other military action against Iraq."
"The country is no more; people are in misery; shells are exploding there to this day. Eventually they discovered that were no chemical weapons there and said that there had been a mistake, but this mistake has cost tens and hundreds of thousands of lives, as well as the existence of a whole state," the Duma chief stated.
"The same can happen in Syria and we must do everything to prevent this scenario from coming to life, especially, I would like to emphasize this again, because the missile strike was delivered on a completely invented excuse," he added.
On Friday afternoon, Russia's Lower House passed an address on to the Parliamentary Assembly of the Council of Europe (PACE) and the Organization for Security and Cooperation in Europe (OSCE) in which it slammed the US missile raid on the Shayrat airbase as a blatant violation of international law, while demanding that nations abstain from using military force or threatening to use it and refrain from interfering in the internal affairs of sovereign countries.
In their address, the Russian MPs pointed out that the chemical weapons incident in Syria's Idlib province, which the US cited as justification for its missile assault, could have been instigated by those who want to see Syrian President Bashar Assad overthrown, as the Obama administration had. They also noted that the missile strike has worked to advantage of the Islamic State terrorist group, whose fighters can now regroup and rest with less risk from Syrian airstrikes.
You can share this story on social media: