Rallies law rejigged: Russian govt orders corrections to statute on public gatherings
Published time: 20 Mar, 2017 10:04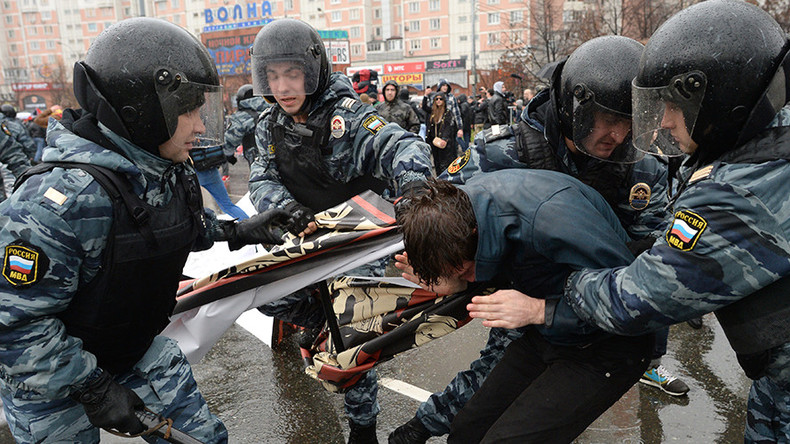 Russian government has charged the Justice Ministry with the task to change the law ordering prison sentences for repeated violations of rules of public rallies after the Supreme Court vacated the sentence of the first man convicted under this law.
Deputy Justice Minister Dmitry Aristov told Izvestia daily that proposals on changes would be ready in about three months. However, he declined to specify what the particular changes could be. Russian law gives the government six months to draft corrected bills after the Constitutional Court finds contradictions in the existing acts.
The head of the State Duma Committee for Legislative Work, Pavel Krasheninnikov MP (United Russia), said earlier that the changes to the law must be prepared by the government. At the same time, several Russian officials have already proposed to repeal the act and decriminalize repeated violations of the rules of public rallies and marches.
These included the chairman of the Russian Supreme Court, Vyacheslav Lebedev, who, however, noted that this was his personal position. Russia's Human Rights Ombudsman Tatyana Moskalkova has also said that the law should be repealed and President Vladimir Putin's press secretary Dmitry Peskov called the initiative "worthy of attention."
The Liberal Democratic Party of Russia (LDPR) drafted a bill on decriminalizing repeated violations of public rallies' rules in early February, but lawmakers have not yet looked into the proposal.
The whole issue of repealing the relatively new law ordering criminal prosecution with possible prison sentences for repeated violations of the rules of public mass events came up after in early February this year the Russian Constitutional Court ruled that the act needed reworking, even though it doesn't contradict the Constitution. The judges said that the reworked law should heed more strictly to general principles of legal responsibility, in particular, the principle that punishment for a crime must be adequate to the danger that it poses to society.
As a result, the court ordered a retrial within the first and only criminal case started under the new law. This was the case of Ildar Dadin – a political activist who was sentenced to 18 months behind bars in in late 2015, after police several times detained him over public protest violations, and every time he was sentenced under the civil code.
Roughly a week after this ruling, the court examined Dadin's case and ordered the sentence be canceled and the activist released. The reason for this decision was procedure violations – the defense claimed that at the time when the criminal sentence was pronounced the court rulings ordering civil punishment had not come into force.
After the release the activist said that he planned to file a lawsuit against Russian authorities demanding compensation for unlawful incarceration. His wife, Anastasia Zotova, also told reporters that she and Dadin planned to continue their work in the human rights sphere, in particular defending the rights of inmates. However, she added that they would prefer to do this "from outside Russia."