Russian military will leave Kyrgyzstan when no longer needed for regional stability – Putin
Published time: 1 Mar, 2017 01:37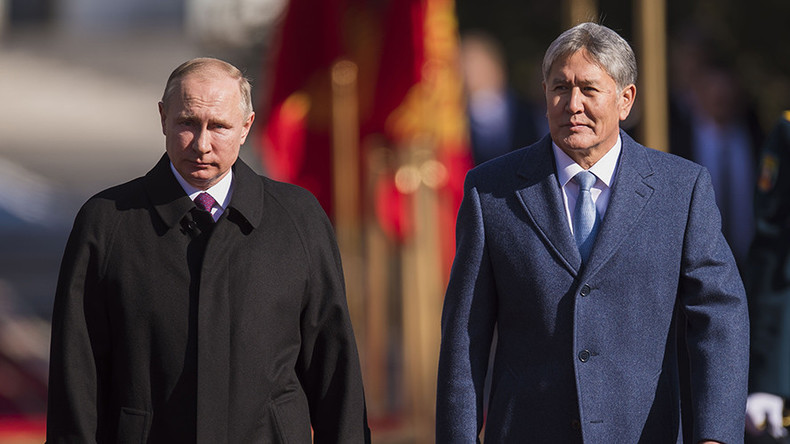 The Russian military presence in Central Asia is crucial for regional stability, according to President Vladimir Putin, but Moscow is ready to leave at the first request after it helps to strengthen the Kyrgyzstan army to be capable of maintaining security on its own.
Russia is both ready to abandon its military base in Kyrgyzstan or to reinforce it, Putin said in the aftermath of talks with his Kyrgyz counterpart Almazbek Atambayev in Bishkek on Tuesday.
"When Kyrgyzstan decides that it has strengthened its armed forces so that it no longer needs this base, we will pull out immediately," Putin said. "We did not discuss expanding the Russian military group here. If Kyrgyzstan decides that this is necessary, we will discuss this issue, but you should know that this will entail additional spending for us."
The Russian military came to Kyrgyzstan at the beginning of the 2000s following an urgent request from the country's authorities, who faced an "international terrorism" threat from militants infiltrating the country from Afghanistan.
The main Russian military facility in the country is the Kant Air Base, housing Su-25 ground attack planes and Mi-8 military transport helicopters. The air force at the base is a part of the Collective Rapid Reaction Force, the joint task force of the Collective Security Treaty Organization (CSTO).
Putin said the military presence in the country is not a goal for Russia but that it contributes significantly to the stability of the whole region of Central Asia.
The two leaders also discussed the development of the Kyrgyz armed forces and Russian military aid. "What we did mention during the talks was strengthening Kyrgyzstan's army and armed forces, stepping up supplies of weapons, equipment," Atambayev said. "Russia wants to help us strengthen our own armed forces."
The two leaders further agreed to expand military and technical cooperation in order to fight terrorism, the drug trade, and cross-border organized crime; among the pressing issues which are plaguing the Central Asia region.
Apart from military cooperation, the two leaders also discussed joint business projects, particularly, Russian participation Kyrgyzstan's gasification program. Russia plans to invest 100 billion rubles ($1.7 billion) into the country's natural gas distribution system, and the project is expected to raise Kyrgyzstan's gasification level to 60 percent from the current 22 percent.
Putin traveled to Kyrgyzstan following visits to Kazakhstan and Tajikistan, two other Central Asia states also considered to be Moscow's strategic partners in the region.
"In all these countries, Russia ranks first in terms of bilateral trade and, despite current economic headwinds, Russia has retained this position," Putin said.
The three Central Asian countries are members of the CSTO and Russia seeks to strengthen joint efforts in battling terrorism and organized crime. Kazakhstan and Kyrgyzstan are also members of the Eurasian Economic Union (EEU) and according to Putin, the growing economies and industries in these countries indicate that the cooperation is actually effective.