Top Russian senator vows to raise Syria issue at global parliamentary gathering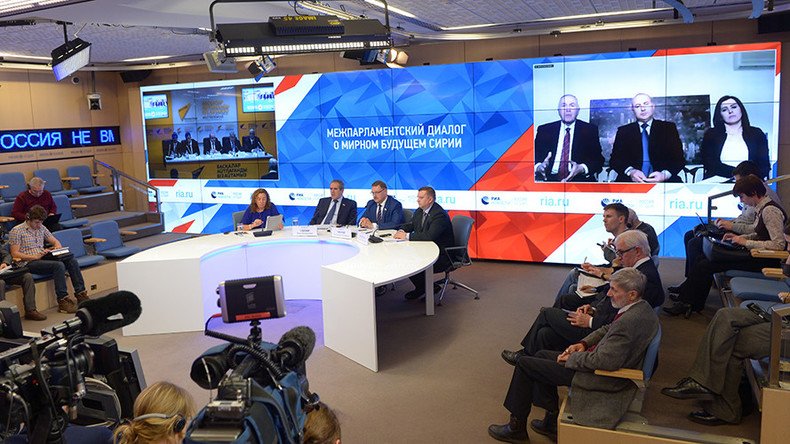 The head of Russia's upper house Committee for International Relations wants to discuss Syria at the upcoming session of the Inter-Parliamentary Union – a global inter-parliamentary forum – in order to gain the coordinated support of the world community.
"I propose to come up with a joint initiative of yet another discussion concerning Syria that would emphasize the support to the Geneva and Astana processes. These are the processes that gained momentum after our October discussion, they require separate attention from us and consolidated support from the international parliamentary community," Konstantin Kosachev said during a televised conference between Moscow, Damascus and Astana organized by Rossiya Segodnya.
The TV link was dedicated to the inter-parliamentary dialogue on a peaceful settlement in Syria in the light of the recent talks on the issue in the Kazakh capital, Astana.
Kosachev also noted that despite the international community having paid significant attention to the events in Syria, it was extremely difficult to obtain truthful information about events there.
"We see propaganda instead of information and speculation on humanitarian disaster instead of real help," the senator said.
Other committee participants supported the Russian official's proposal, noting that the Inter-Parliamentary Union was an influential group, which threw its authority behind forces that sought peaceful end to the Syrian conflict.
Senator Kosachev also told those who took part in the teleconference that the situation in Syria will be discussed at the Munich Security Conference on Sunday.
The first talks between representatives of the Syrian government and rebels took place in Astana on January 23-24 this year. The latest round of the talks ended on February 16. The discussions were organized with the mediation of Russia – the main supporter of the Syrian government and President Bashar Assad – and Turkey, which backs the Syrian anti-government forces.
Separate peace talks on Syria organized by the UN are also being held in Geneva, and the next round of these talks is scheduled for February 23.
The Inter-Parliamentary Union (IPU) is the oldest such group in existence. It unites the members of 170 national parliaments, and 11 regional parliamentary assemblies are associate members. The group holds permanent observer status at the United Nations.
Russia intensified its contacts with the IPU after its conflict with the Parliamentary Assembly of the Council of Europe (PACE). In October last year Russian lawmakers sealed an agreement to hold the next IPU meeting in Russia's St. Petersburg in 2017.
You can share this story on social media: