Chechen leader Kadyrov names hospital after killed Russian philanthropist Doctor Liza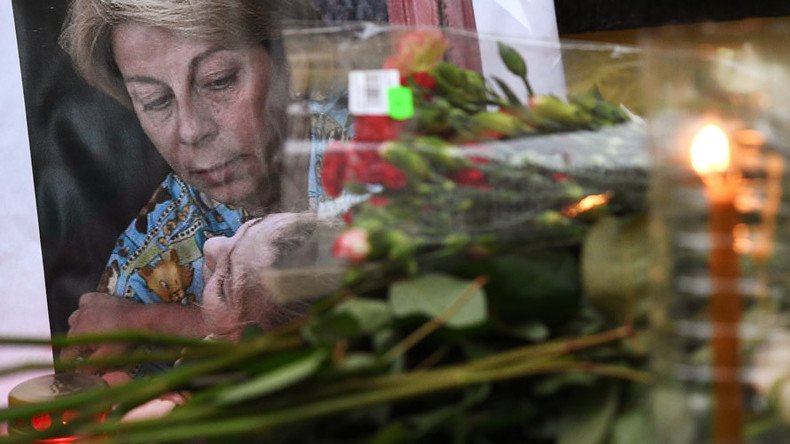 Chechen leader Ramzan Kadyrov has given an order to rename the republic's main children's hospital after famous Russian doctor and charity activist Elizaveta Glinka, also known as Doctor Liza, who died in the plane crash off Sochi's coast on Sunday.
"I have decided to name the republic's Children's Clinical Hospital in Grozny after Elizaveta Petrovna [Glinka]. [Head of the Alexandrov Ensemble] Valery Mikhailovich [Khalilov] has been posthumously awarded the Chechen Republic's medal for merit. I am confident that the names of these great people will forever remain in Russia's history," Kadyrov wrote on his Instagram page.
He wrote that Elizaveta Glinka had dedicated herself to the most noble of all causes – saving children in places of war and conflict – and will forever remain in people's memory because of that. He added that the death of the members of the Aleksandrov Ensemble was a tragic loss, as they have inspired Russia's military to heroic deeds for many years.
Russian Defense Minister Sergey Shoigu has ordered that one of Russia's military hospitals be named after Elizaveta Glinka, the Defense Ministry's press service reported on Monday. In the same statement, the Russian military promised to complete the philanthropist's mission and pass on the aid that she had wanted to personally deliver to the hospital in Latakia, Syria. In fact, the aid has already arrived at the Russian Air Force base in Khmeimim on another flight.
The minister also ordered that the Moscow School of Music be named Valery Khalilov, the press service reported.
The Tu-154 airliner belonging to the Russian Defense Ministry crashed into sea off the coast near Sochi in the early hours of Sunday morning, killing 84 passengers and eight crew members. The passengers included 68 performers from the AleksandrovEnsemble, a famous Russian military orchestra and choir, including its director and conductor Valery Khalilov and nine journalists from three Russian TV channels.
Elizaveta Glinka, often known in Russia by her nickname 'Doctor Liza', also died in the crash. Glinka was known as a selfless philanthropist, the founder of the first hospices in Russia and Ukraine, and the head of the NGO 'Fair Help,' which provides financial support and medical care to cancer patients, underprivileged families, the homeless, and others in need.
In 2015, Glinka organized the evacuation of many sick children to Russian hospitals from the unrecognized republics in Donbass.
Earlier this month, Russian President Vladimir Putin presented Glinka with the state's top award for the year for her outstanding achievements in charity and human rights activities. At the ceremony, she promised that she would soon travel to Syria.
You can share this story on social media: