Trump & Putin have close positions on key issues – State Duma speaker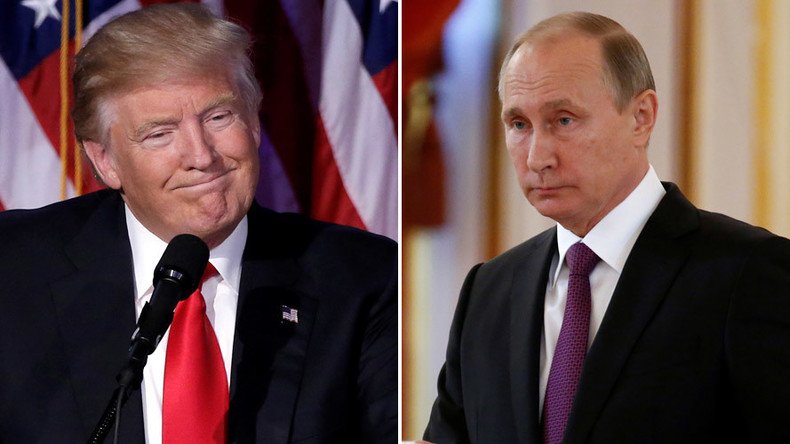 The US and Russian leaders have never had such similar positions on the key issues of world politics as Russian President Vladimir Putin and US President-elect Donald Trump, Vyacheslav Volodin, speaker of the Russian parliament, said.
"Putin and Trump have numerous common points and shared views," Volodin told Russian NTV Channel in an interview published Sunday.
Volodin expressed hope for improvement in US-Russian relations, but also called for caution saying that Trump is yet to make practical steps towards rapprochement with Russia and show that his statements were not just empty promises.
"If Trump brings his promises to life, it will radically change the situation. We have only seen Trump as a candidate but we are yet to see what [kind of] president he will be," the Duma speaker said.
He stressed that "restoring trust and respect" should be a primary goal in relations between the two countries, adding that the actions of previous US administrations have brought them to a historic low.
Acting US President Barack Obama either ignored Russia's initiatives or deliberately "whipped up tensions, therefore contributing to the growing animosity" between Russia and the US, according to Volodin.
The speaker of the parliament's lower chamber criticized the recent US presidential election campaign, noting that the smearing was unprecedented. He said that the whole campaign was focused on discrediting Trump through all available means, adding that the hysteria whipped up around his personality by his opponents only showed that he was a "strong candidate" and his rivals were really afraid of losing the elections.
He also drew attention to some flaws in the US electoral system, including early voting and the Electoral College. He said that early voting opens ways to numerous violations and makes elections less transparent, while the Electoral College is a sort of filter that allows the elites to tamper with the real popular vote.
NATO panicking over Trump election victory – Pushkov
Russian Federal Council member, Aleksey Pushkov said that NATO is apparently in a state of panic over the potential change in US policy with regards to the Alliance after Donald Trump's victory in the US presidential elections. He made the comments on Twitter in response to the latest NATO actions.
On Saturday, Germany's Spiegel magazine reported that NATO strategists drafted a 'worst-case' scenario, in which Trump orders US troops out of Europe. On Sunday, NATO Secretary General Jens Stoltenberg stressed that importance and the unique nature of the US-NATO ties and urged Trump not to abandon his European allies.
"We face the greatest challenges to our security in a generation. This is no time to question the value of the partnership between Europe and the United States," he wrote in an opinion peace for the Guardian.
On Saturday, Pushkov also said that there is a real prospect of Trump "reviewing the interventionist policies of NATO," adding that it makes the atlantists in Europe "nervous." He also warned that Trump is likely to face an "unprecedented pressure" over Syria as both the US establishment and NATO allies will try to convince him to continue the policy of the previous administration which supports those opposing Syrian President Bashar Assad.
Meanwhile, a leaked telegram sent by the British ambassador to the US showed that the UK is already planning to exploit Trump's openness to "outside influence" to make the President-elect's foreign policy more favorable to London. The British government also listed all of Trump's campaign statements about NATO in a special paper in order to develop ways to respond.
You can share this story on social media: