Russia's former nuclear boss appointed deputy head of presidential administration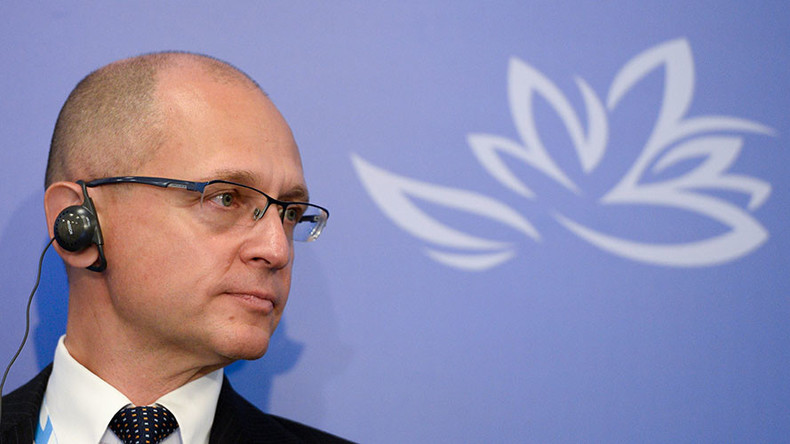 Vladimir Putin has appointed the former director of Russia's state nuclear energy corporation, Sergey Kiriyenko, as first deputy head of his administration in charge of domestic politics.
The decree putting Kiriyenko in charge of coordinating all of the country's political processes was published on the presidential web-site on Wednesday. Rumors about the appointment began circulating soon after last month's parliamentary elections, when it became clear that the presidential administration's previous first deputy head, Vyacheslav Volodin, had won a seat in the state Duma. On Wednesday, he was elected as its chairman. However, Kiriyenko dismissed the reports about his future in the presidential administration until the last moment, while the presidential press secretary told reporters that he had no information on the appointment.
READ MORE: Putin proposes longtime ally as new Duma speaker, calls for urgent session
Fifty-four-year-old Kiriyenko has a very long and versatile background in Russian politics and state administration. He had worked as the general director of the Rosatom Corporation – Russia's state monopoly in nuclear energy sector – since December 2007. Before that, he headed the Federal Agency for Nuclear Energy for two years.
Between 2000 and 2005, Kiriyenko worked as the presidential envoy to the Volga Federal District.
From 1998 to 2000, he worked in the rightist pro-business party SPS (Union of Rightist Forces), which held a small number of seats in the third convocation of the State Duma. Kiriyenko headed the party's caucus in the Lower House.
Kiriyenko reached the peak of his political career in 1998, when he chaired the Russian government for about four months, ending in a major economic crisis, a default on short-term state bonds, and the wholesale sacking of the cabinet, but most Russian analysts agree that the disaster was hardly Kiriyenko's fault – apparently he had agreed to take the post and sacrifice his image in order to save the reputation of his older colleagues and President Boris Yeltsin himself.
In the early 1990s, Kiriyenko worked as deputy energy minister and before had a top post in the NORSI Oil company. Before Perestroika, he headed the Gorky (Nizhny Novgorod) regional committee of the Communist Party's youth branch – the Komsomol.
Kiriyenko is married and has three children. His main hobby is Aikido. He holds the fourth dan in this martial art and chairs the Russian Federation of the Aikikai Aikido clubs. He is also one of the founders of the Russian Martial Arts Union, which he co-chairs.
You can share this story on social media: