No regrets: Almost all Crimean residents support reunification with Russia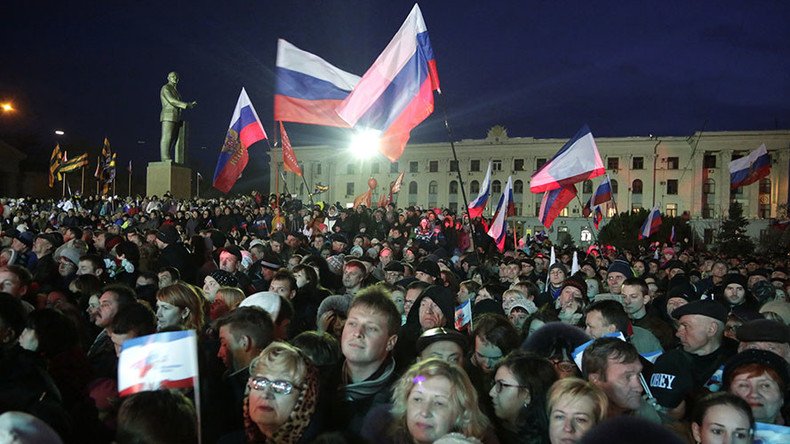 Ninety-five percent of the people living in Crimea would vote in favor of the republic's accession into the Russian Federation if a referendum on the subject was held again today.
On Tuesday, Russia's state owned public opinion research agency, VTSIOM, released the results of a poll conducted among Crimean residents between late June and early July of this year which found that 95 percent of Crimeans and 94 percent of the people living in Sevastopol, which is a separate subject of the Russian Federation, said they would vote to reunite with Russia if a referendum on the issue took place in the near future.
Only two percent of those polled said they would not support the reunification. Three percent of Crimeans and four percent of Sevastopol residents found the question too complicated to answer.
READ MORE: 2 years on almost all Russians support reunification with Crimea
In the same poll, Crimeans were asked if they were satisfied with the general situation in their region. Seventy-six percent answered "yes," of which 34 percent were "very definite" about it. Ninety-seven percent of Crimeans and 98 percent of those living in Sevastopol said they approve of how Russian President Vladimir Putin is doing his job.
The Crimean Republic reunited with the Russian Federation two years ago after over 96 percent of its residents, the majority of whom are ethnic Russians, approved the move in an urgently called referendum. The decision was prompted by the ouster of the democratically elected president of Ukraine in a violent coup in Kiev and the installation of a nationalist-backed government that almost immediately declared war on the pro-Russian regions in the country's southeast, which refused to recognize the newly imposed regime.
After the second anniversary of the reunification in mid-March of this year, VTSIOM conducted a nationwide poll that showed 95 percent of Russians looked positively on the move. Only three percent had a negative view of the reunification, and two percent said they could not give a direct answer to the question. In the same poll, 79 percent of respondents told researchers that they thought that Crimeans had benefited from the reunification.
Also in March, private pollsters Populus and Iflop, from the UK and France respectively, released the results of their own research which showed that roughly a third of Europeans and a quarter of Americans accept that Crimea is now part of Russia again.
READ MORE: 1 in 3 Europeans say Crimea is Russia 2 years after historic referendum – poll

Some 39 percent of Italians, 37 percent of Germans, and 33 percent of UK citizens said Crimea belongs to Russia, according to the survey. In the US, 26 percent of those polled said Crimea was part of Russia, though 42 percent said they had never heard of the Crimean issue at all.
You can share this story on social media: