Govt seeks ban on foreign-made internet messengers for civil servants, military - report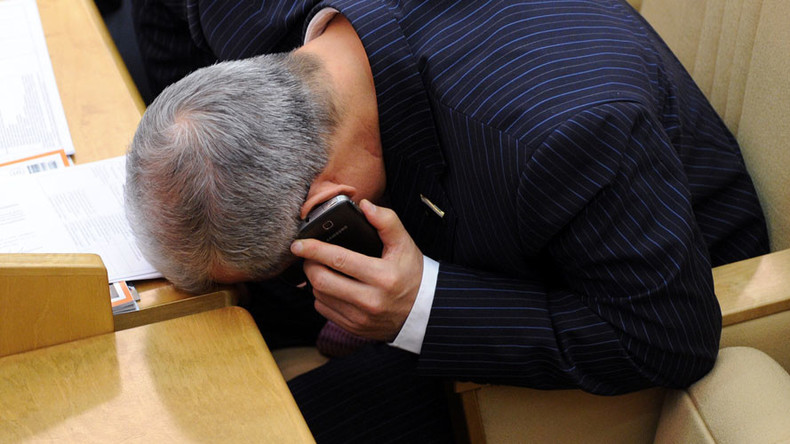 The Russian Economic Ministry has addressed Vladimir Putin with a proposal to oblige state officials and military servicemen to use only Russian-made internet messengers and email providers at work, promising that Russia's own messaging software would soon be available.
Popular Russian business newspaper Kommersant Daily reported on Monday that it possessed a copy of the ministry's report aimed at setting preferences for Russian-made computer hardware and software in government tenders.
The proposals detailed in the document include banning civil servants and the military from using foreign-made messenger applications, and expanding the ban on purchases of foreign software by state agencies to services and "software renting," as well as the ban on spending the budget on foreign-made hardware when there are Russian analogues of similar quality. The ministry also proposed expanding the restrictions on state monopolies and companies partially owned by the Russian government.
READ MORE: Russian civil servants must stop using US messaging services at work - communications minister

According to Kommersant, if the amendments become law, foreign businesses stand to lose about 2.5 million Russian clients. In their existing form, the restrictions could apply to such applications as Gmail, WhatsApp, Skype and Telegram. However, the report reads that they could be replaced by messengers and email services developed by Russian internet holding Mail.ru, together with think tank the Institute for Development of the Internet.
On Monday, President Putin's press secretary, Dmitry Peskov, commented on the report, saying that no decisions on additional bans on software use had been made in the Kremlin. Peskov noted that in his view, it was not correct to use commercial messengers in state agencies because they did not offer sufficient protection from hacking, but that the situation had been already covered by the Law on State Secrets.
He also added that he was not aware of any attempts to develop Russia's own messenger services that could be used for government and military purposes.
In November 2015, Prime Minister Dmitry Medvedev signed a decree ordering the creation of a special register of software made by Russian companies. The document also ruled that state agencies can purchase imported programs only after they have proved that the register contains no analogues of what they need. The new rules came into force from January 1 this year.
READ MORE: 'Ban Apple!' MP warns lawmakers iPhones can be bugged
In September 2015, the head of Russia's Security Council, Nikolay Patrushev, said that foreign-made software posed a system threat to national information security, and proposed that various officials immediately stop using Google and Yahoo email, as well as the WhatsApp messenger service, for work-related purposes.
In mid-2013, MP Ilya Kostunov of the parliamentary majority party United Russia addressed the heads of the Defense Ministry, Federal Security Service and the Communications Ministry with a proposal to immediately limit civil servants' access to popular US internet services and social networks such as Gmail and Facebook. The lawmaker added that violators of this ban should be tried for high treason, which in Russia carries punishment of up to 20 years in prison. This request did not receive support among government agencies.